Lara, her Pony… and QUADRO
Lara[1] loves her horse more than anything. And she spends as much time as she can with Mira – that's her pony's name. But she has just one, itsy-bitsy problem: Her pony is soooo big and, because she's just four years old, she's still so small. But recently, just after she woke up, she had a great idea. She ran, barefoot, into her Mom and Dad's room: "I know the answer: it's the QUADRO learning tower!"
Sleepily, her father rubbed his eyes. "What about the learning tower?"
"For Mira!"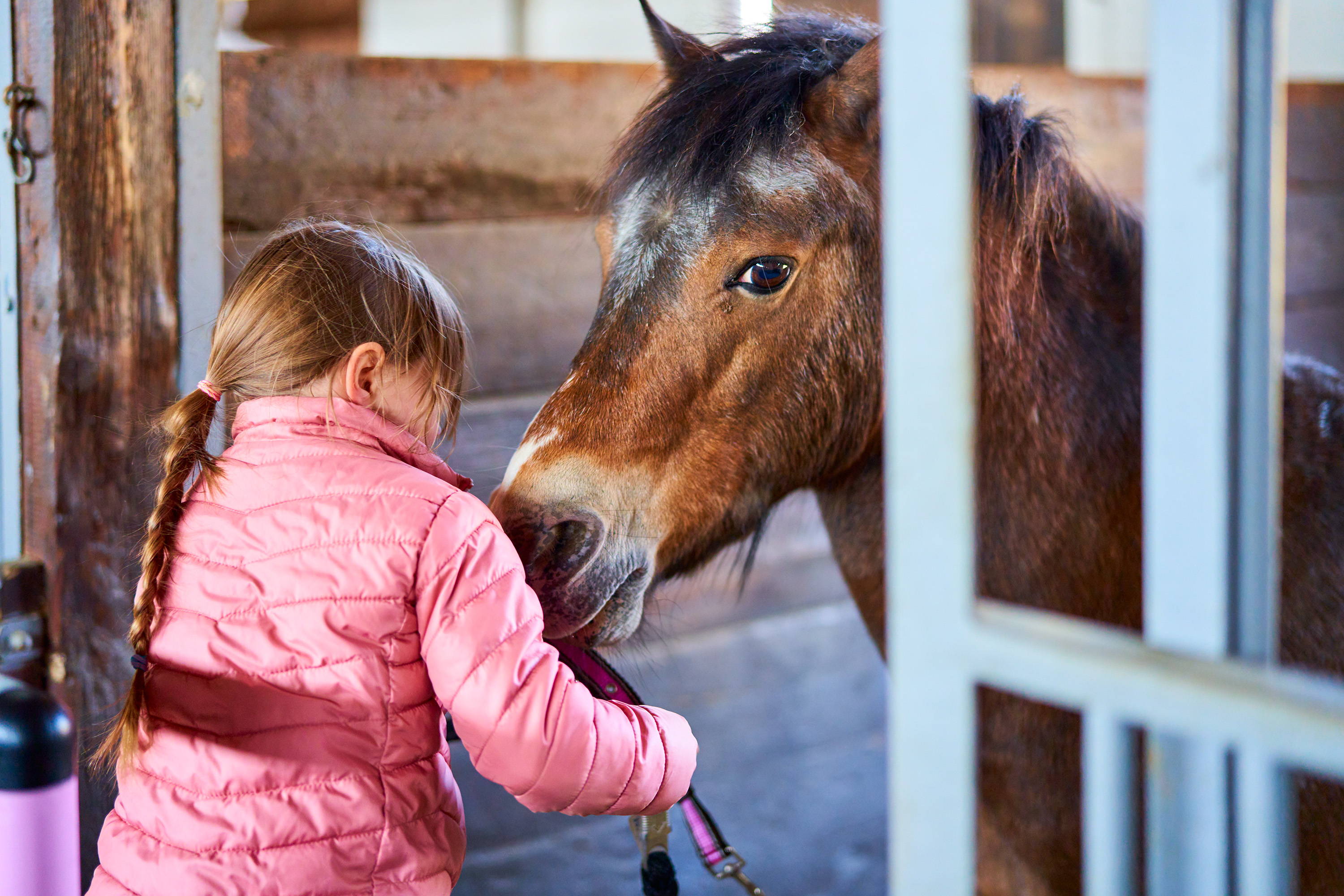 Mom was already more awake that morning and understood right away. Of course! The Learning Tower that the family had built with the two Beginner sets would be just the right height for Lara to stand on safely – and look into the eyes of the pony she loves so much.
"Right after breakfast...," she murmured, but Lara was already on her way. She put on her shoes and jacket and charged out to the raised garden bed where her Learning Tower was. She was able to pull it into the stall to Mira with no trouble at all. As a three-year-old, she was already able to push the Learning Tower into the kitchen by herself. She was mighty proud of that. She loved her QUADRO almost as much as her horse because she had had it since she was a baby. She could build ANYTHING she could think of with it: a Princess' Castle, a Pirate Ship, a little stage for her hand puppets, and much, much more.
By now, Mom was outside too and she helped Lara move the Tower the last few meters to the stall. Then it was time for the big moment: Lara climbed up the steps to her pony. And hugged her hard. "I love you, Mira." Now she could say it close-up. And when the pony looked at her daughter with devotion in her eyes, Lara's Mom had the impression that the pony even understood somewhat. And she was sure that nothing would happen to Lara. She also liked that in the Learning Tower she wouldn't have to keep pushing the sassy pony back because now Mira was well-behaved and stayed in one place; she had accepted the Learning Tower as part of her environment. Then Dad, who was still sleepy, also came around the corner, but Lara and Mom had managed today quite well without him.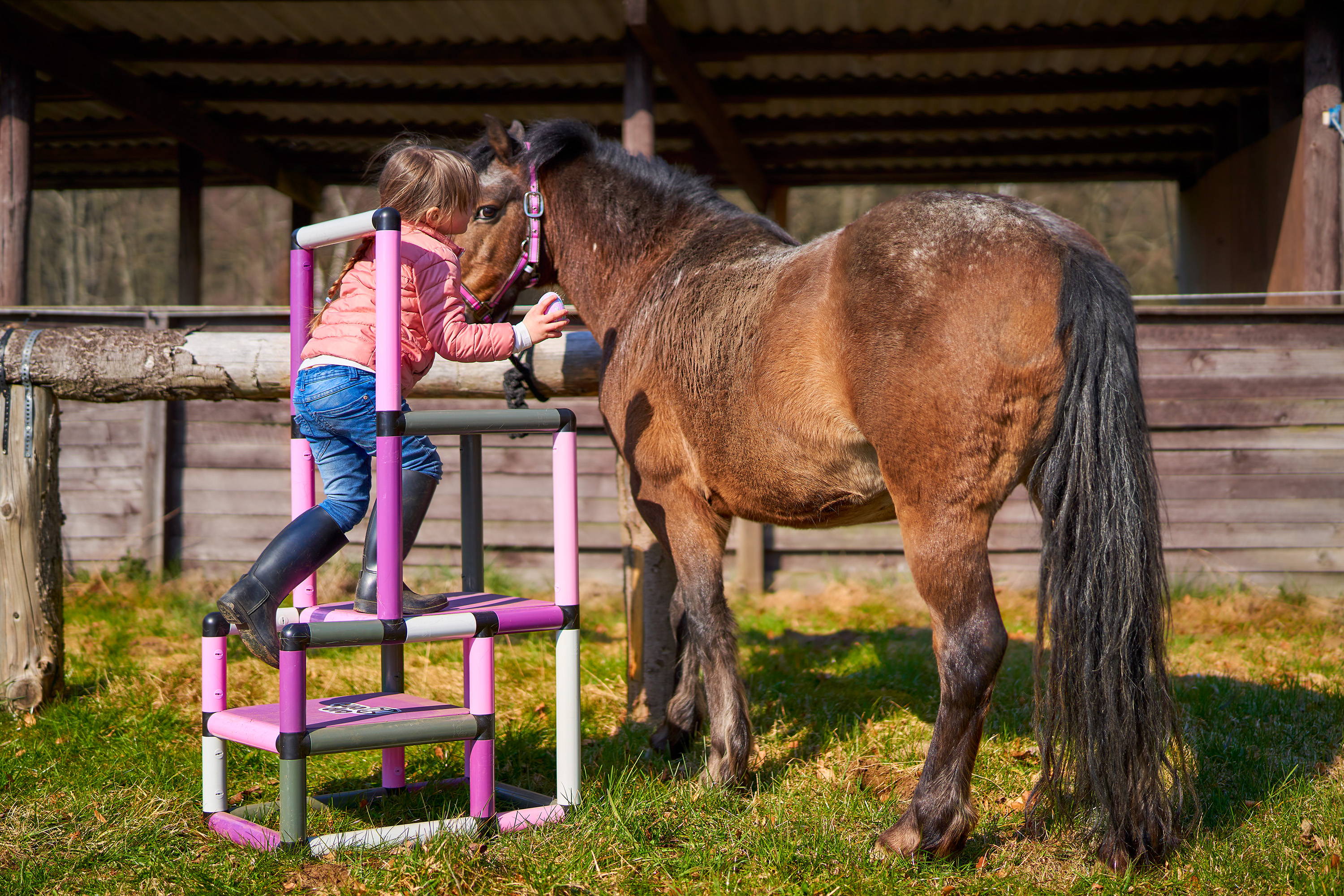 Since then, Lara uses her Learning Tower every day when she visits Mira. She can brush and groom her pony from top to bottom in the stall. Or she can toss feed in the manger and hang up the riding helmet and the lunge line – just like a grown-up. No trouble at all. Lara is happy that she thought of yet another new function for her QUADRO – and now it's even more useful than before.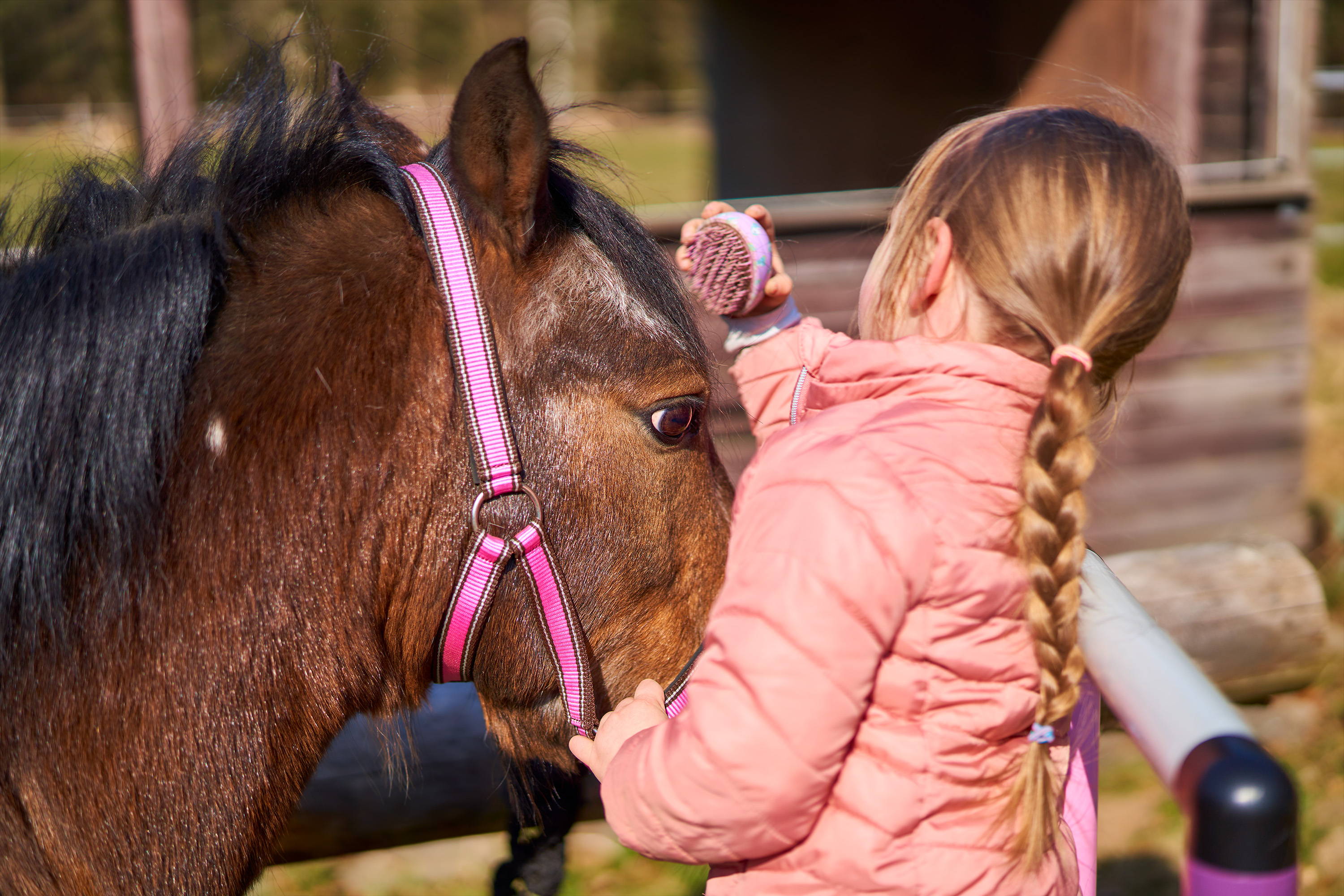 But then things got even better: The Learning Tower was just as convenient to use with the second horse, Charisma, even though the new member in the family is considerably more than 14 hands high. No problem for the Learning Tower! The girls – now Lara invites older friends to visit – tussled with each other in fun to see which of them would be allowed to groom the new horse's back first and which could groom her belly first – meanwhile, the other kids had crowded around Mira.
The Learning Tower is more than an eyecatcher in the stall – it's truly an improvement, especially because it's a wonderful place to put the saddle and grooming equipment. In addition, Mira's bridle and halter are also stored there.
The Tower is robust, it can take anything, and it has become a permanent part of the riding equipment. If they need it, the children can pull it to where the horse is and climb up. In contrast to a stool, a railing provides stability here – it's perfect for one child-sized hand to hold onto while the other hand brushes the horse's back or mane. When Lara holds onto the railing, there's no way for her to fall backwards. Moreover, with its super practical handle, it can be pulled to wherever it's needed at the time.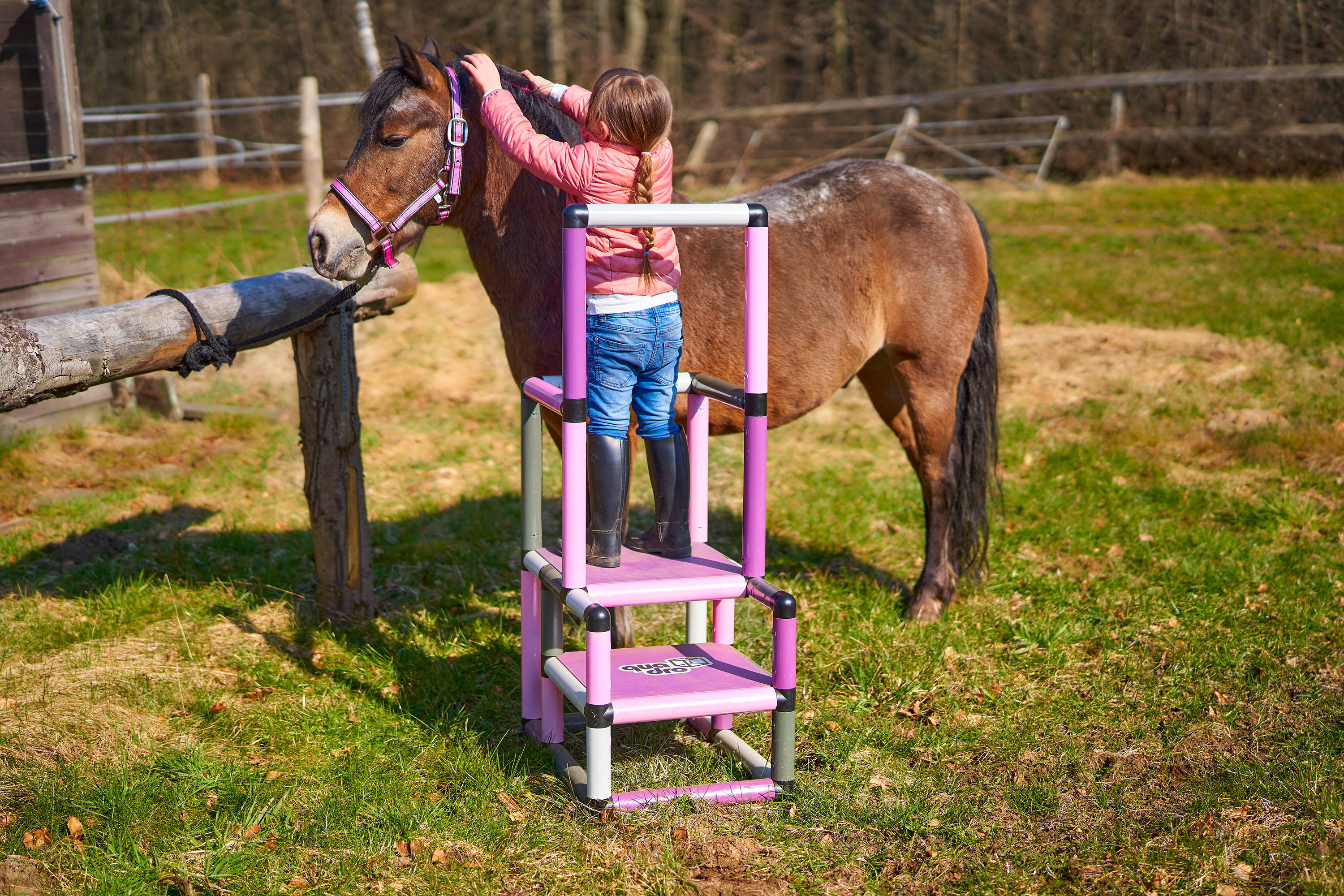 It's also great that the horses are not afraid of the Learning Tower, but also that they don't ignore it. Instead, they see it as a barrier. And that's a good thing because all the little riders standing in the Tower are always safe.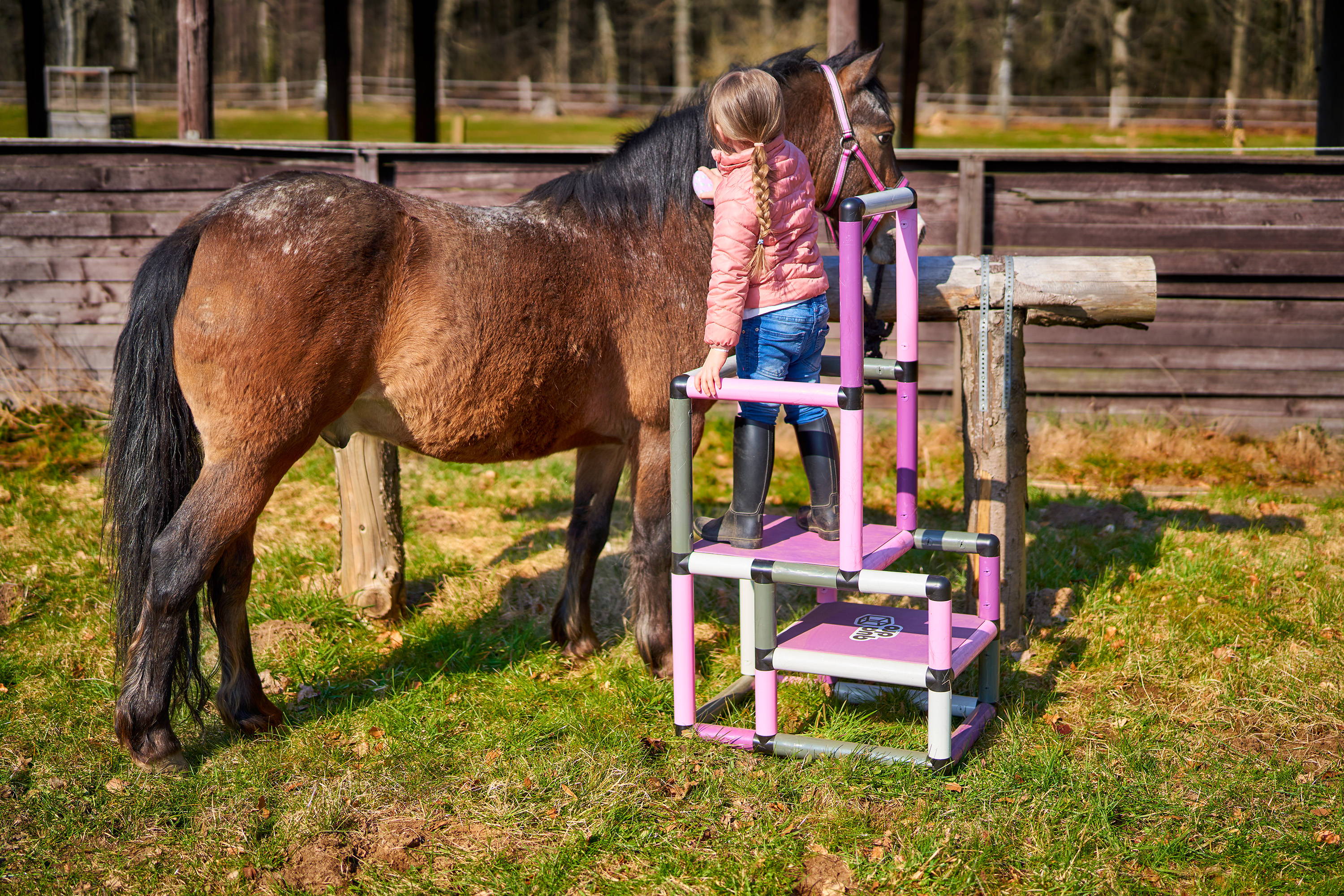 And when the Learning Tower is covered with too much straw, dust, and horse hair, Lara pulls it outside and sprays it off with lots of water. It's clean in a jiffy. Easy and uncomplicated to use, indispensable for riding – that's just QUADRO.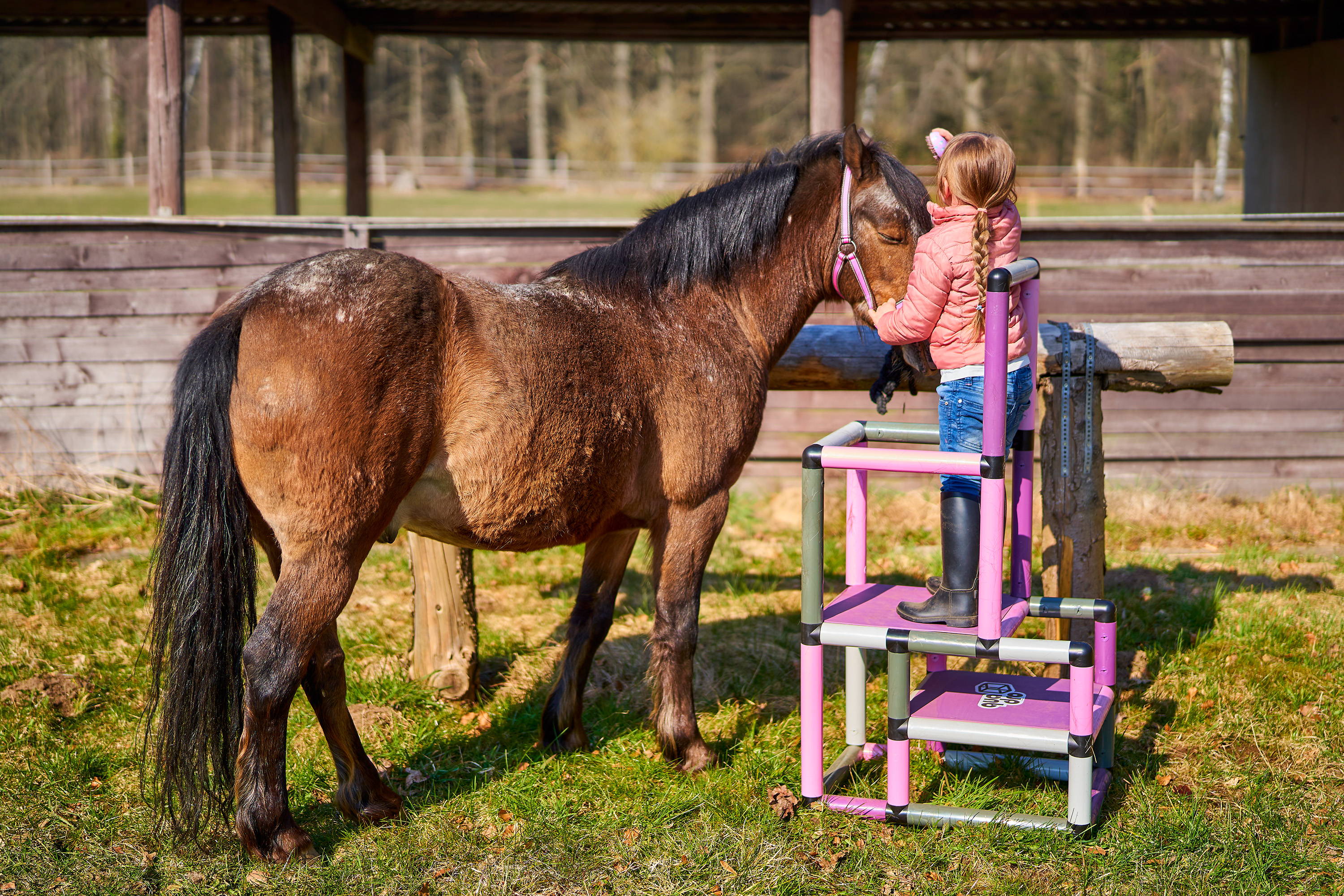 You can learn more about Learning Towers, which come not only in the Classic colors, but also in petrol, mint, and berry, in this article: "Learning Towers – A Playful Way to Increase Self-Confidence". And here are the pictures to help you build this model yourself.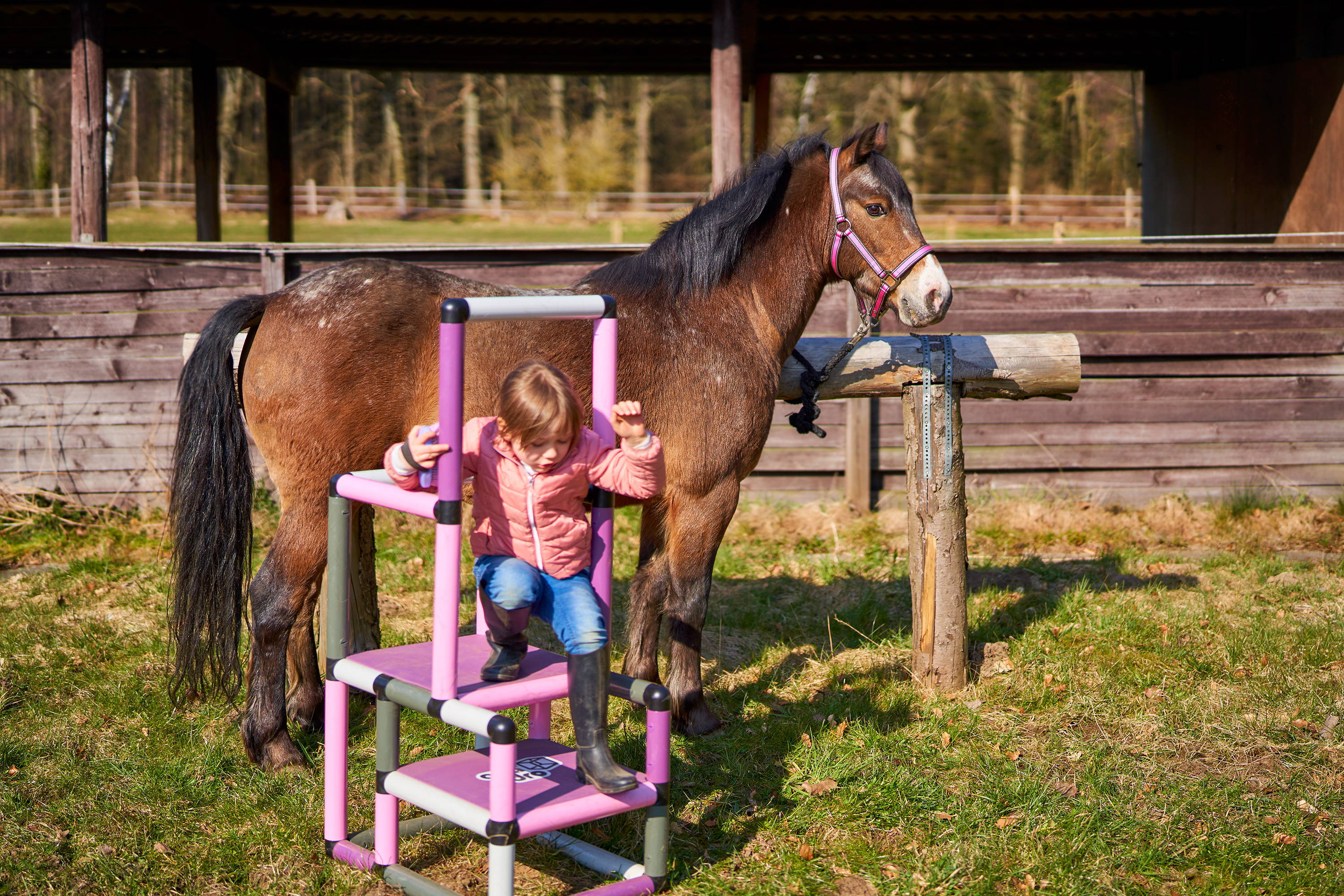 [↑] Name changed by the editorial department.