In the Land of Make Believe
In Krakow, Poland, there's a place where you can escape from the concrete jungle and immerse yourself in a land of dreams. The name of this place is Helili, and here little ones and grown-ups alike feel right at home.
How does the story of this magical place begin? In fact, it begins like many others – Joanna becomes a mother while living with her husband in Dubai. She spends a great deal of time with her daughter; they have a lot of fun together. The only problem is that when she's back in her home country of Poland, she doesn't really know where to go with her daughter during the day. A place where they would both enjoy themselves hasn't been created yet. So Joanna decides to change that – and opens Helili.
It was clear from the start that her dream world could only be called this and nothing else – when people asked her daughter Helena what her name was, she always answered "Helilililili." A bit too long perhaps, but somehow still quite fitting, Joanna thought.
She created a place where mothers and children can escape the sensory overload of today's world for a few hours. This is a place where you can really focus and come up with new ideas on your own. The rooms are decorated in a minimalist style, the furniture and toys are of exquisite quality. And every room is different...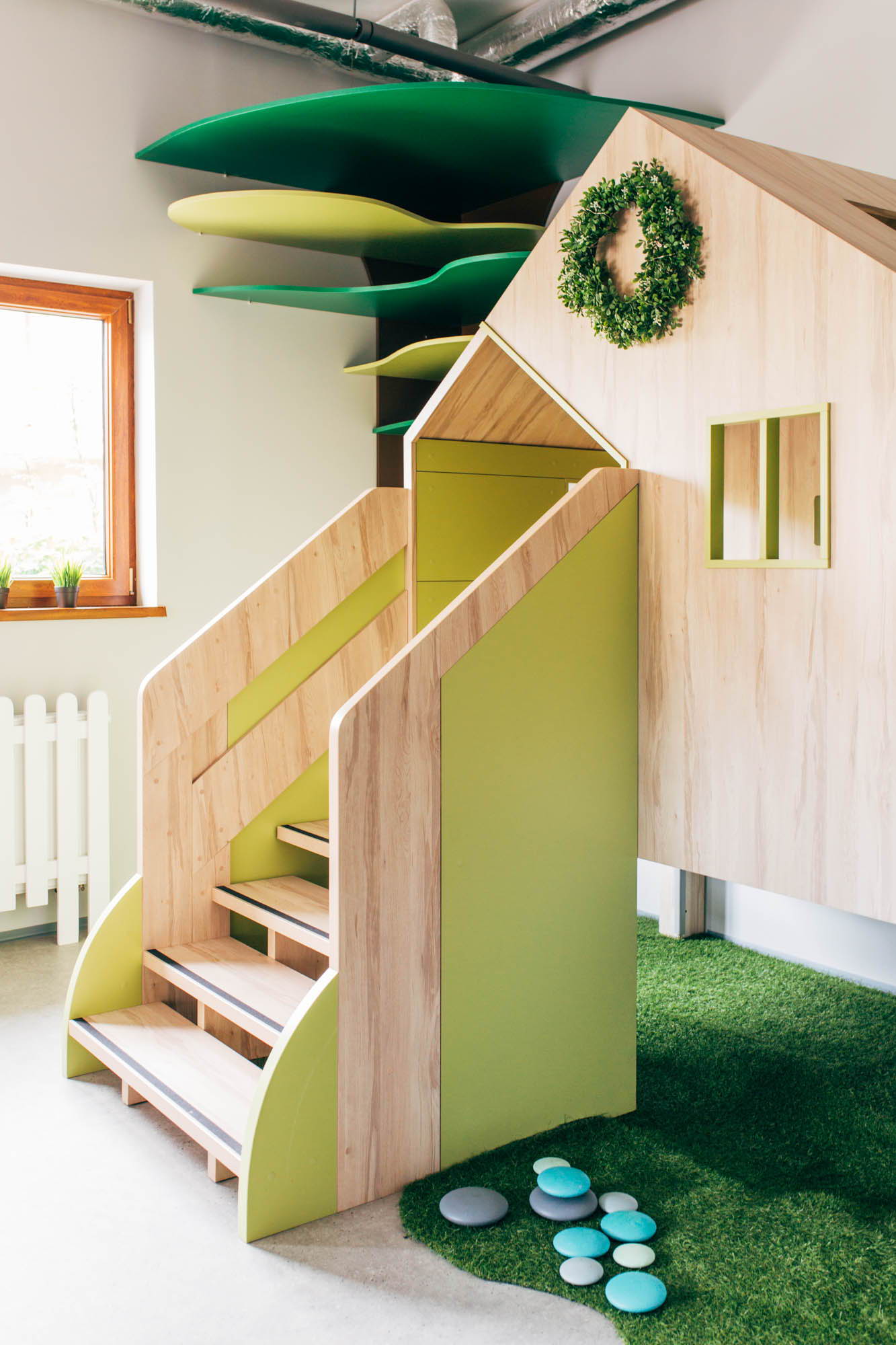 One of them is a perfect symbiosis of technology and nature, with the walls almost completely black and a slide in the middle. When a child slides down, a projector casts different nature scenes on the wall, accompanied by the buzzing of bees or the sound of the sea. Nature plays an important role at Helili, and this is visually expressed in the many wooden elements. Nevertheless, technology still plays an important role (even if only in small doses), because it's a part of today's world, too.
Other rooms are more down-to-earth. In one, for example, visitors will find a hand brush and a shovel – as well as an ironing board. Another is set up as a workshop. All the rooms are used equally by the boys and girls who come to visit; this is extremely important to Joanna.
In addition to blocks of time during which visitors have free rein, Helili continuously holds workshops, courses, and events that offer children and parents fresh inspiration – whether it's children's yoga derived from Cosmic Kids Yoga in which the little ones do yoga exercises that are incorporated into an exciting story, or, for example, the "vacation camp" that recently took place during which the children conducted experiments with rain in a glass and learned in passing how important water is for us humans. Or during "survival training," where they learned how to filter water with the simplest means, which plants are edible and which are poisonous, and how to read animal tracks. There was even an archaeological dig that ended up with the kids assembling the skeleton of a T-Rex, which they promptly christened Stefan.
Tuesday at Helili is Messy Day. Here, the little participants sit at a table with noodles, various kinds of porridge, and other edible things on it. Here they can really experiment with their senses of touch and taste, and are allowed – no, encouraged – to get dirty. When it's over, the little ones change their clothes and go home happy. That leaves only one important question: who cleans up? Helili takes care of it – this time the mothers don't get stuck with the job.
Overall, a great deal of consideration is given to parents here, and the environment is designed to make them feel comfortable as well. In addition to a café with lots of tasty treats that parents love, there's also a quiet area where they can work in peace. At Helili, the focus is on the feeling of community. Here, everyone supports each other – like at mothers' get-togethers, for example, where one or the other is always relieved to hear that other parents have recently gone through a similar situation themselves.
When children celebrate their birthdays here (which are always personalized, like ninja birthdays or those in the style of Frozen), Joanna does something special: she also congratulates the parents. After all, it's their day, too. She picked up this tradition in Holland, the country her husband is from.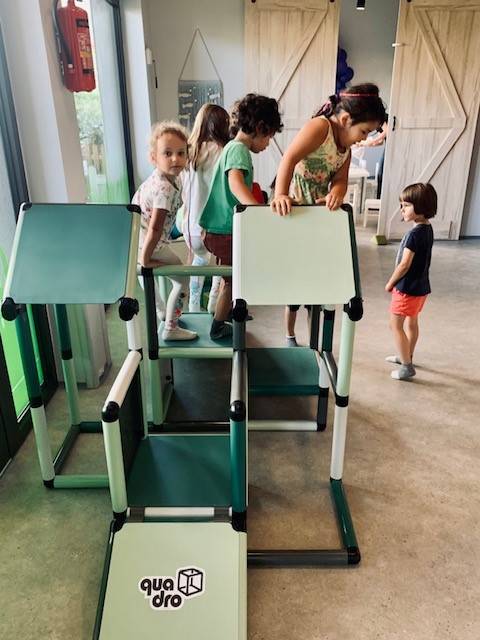 Recently, Helili added two QUADRO Adventure Mint jungle gyms to its portfolio. With their mint colors, they blend in perfectly with their nature-inspired surroundings. Yet despite blending in so well, the little ones immediately spotted them and took them over right after Joanna and Helena, who is now five and a half years old, set them up together. Everyone, truly everyone, enjoys playing with the new additions. The littlest ones carefully slide down the mini-ramp while the big ones immediately came up with their own ideas, like building a QUADRO slalom course with other toys. And a tunnel. The children not only let their toy cars whiz down, but of course also slide themselves, and the latest craze is to even do so standing up. After all, who says you can only slide sitting down!? It goes without saying that Helili's employees kept an eye on all the kids to make sure that everyone was safe, of course.
Joanna wanted to create a friendly, inspiring place for parents and children. And she succeeded. So, if you're ever in Krakow, feel free to pay Helili a visit. You can learn more about Joanna Klinkenberg's world of fun here.
And you can check out our Adventure jungle gym here.