In Saint Petersburg, People Prefer the Unusual and Extravagant
Where do you park your classic car during rush hour in Saint Petersburg when you want to go shopping? Directly inside the mall, of course. But the car looked so good that it never made it back out – because it's now an attraction for hundreds of visitors every day. As a result, the QUADRO classic car now has a permanent home in the DLT shopping center in St. Petersburg, the oldest mall in the city. The mall bought it from Quadrorussia.ru together with an interactive indoor playground.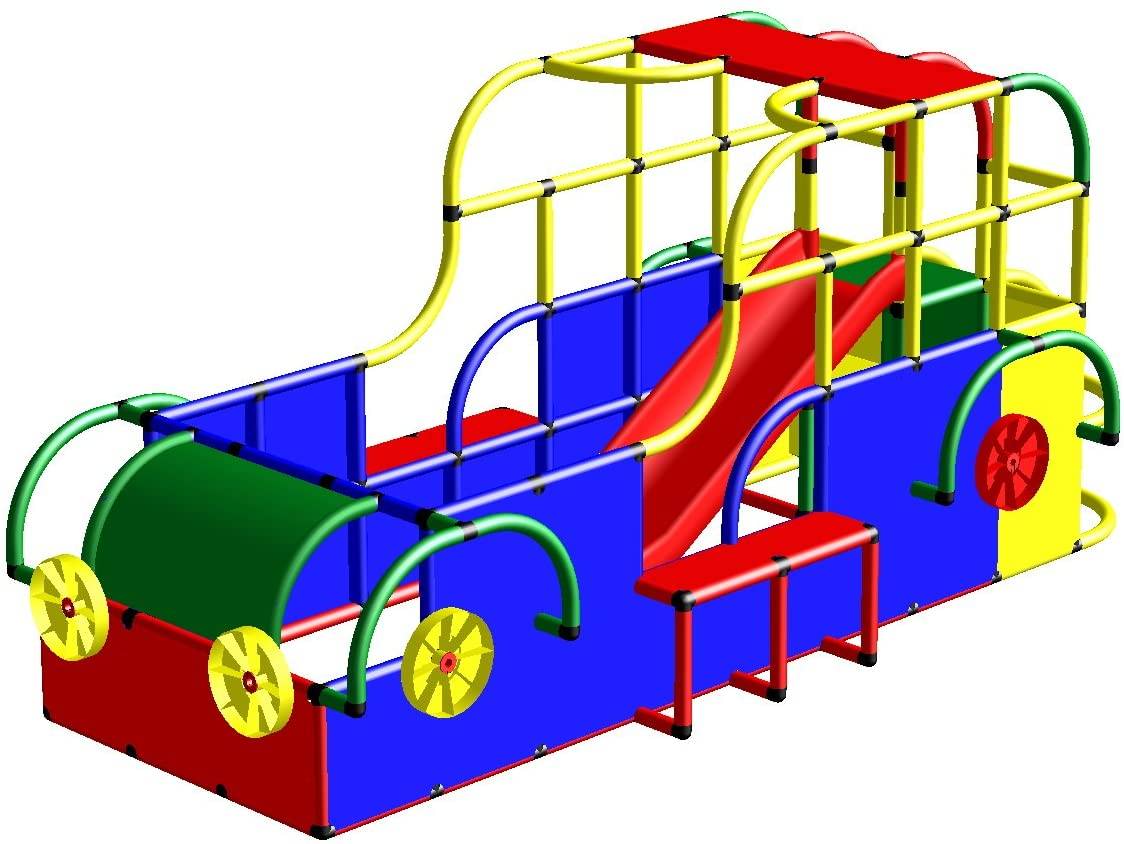 The QUADRO classic car isn't the only vehicle that's popular in Russia – one particularly creative family built a tank for their children out of QUADRO parts and pushed their three kids around in it. It's certainly an eye-catcher, and it has space for several children.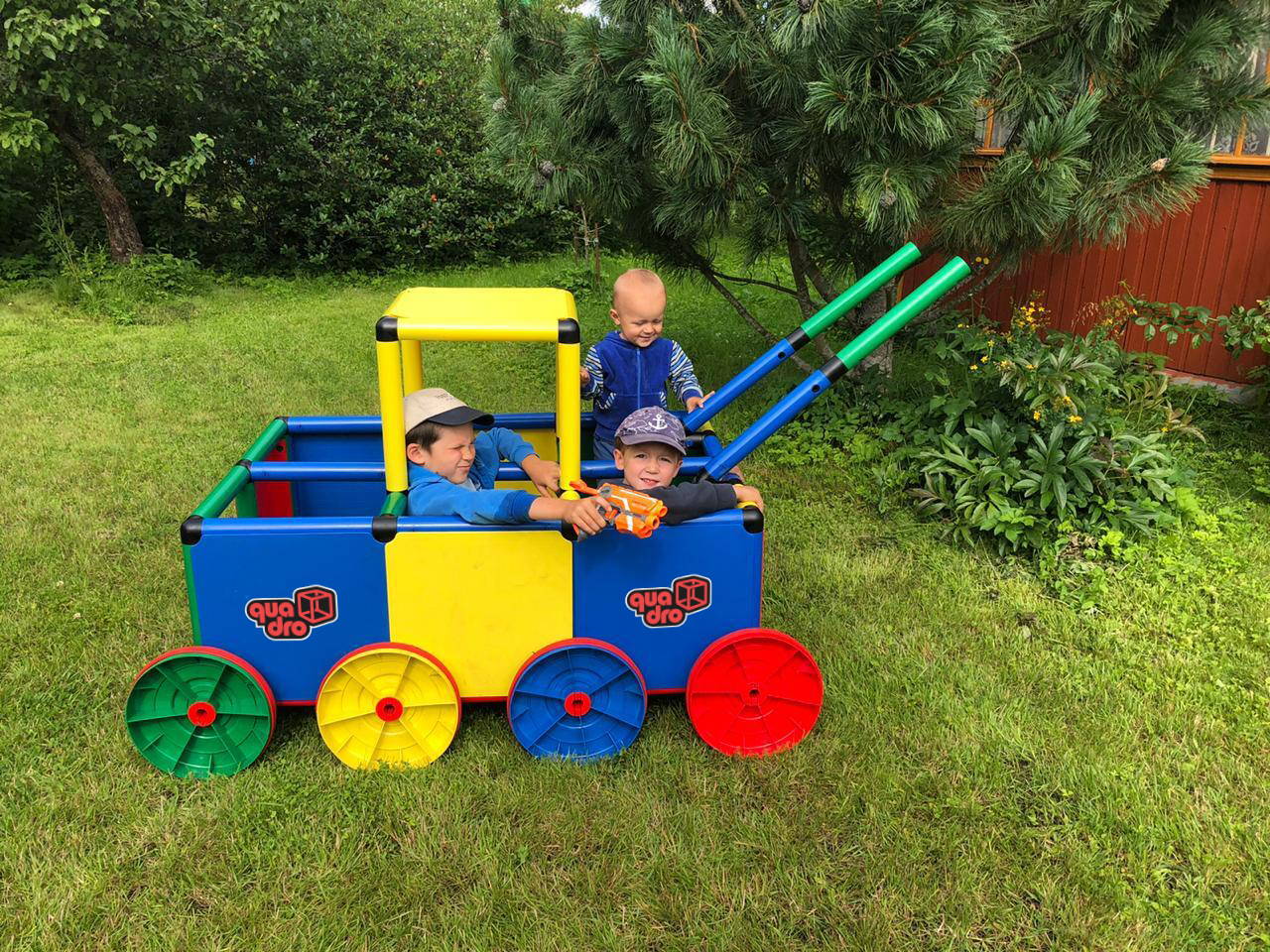 QUADRO Russia's story also began with a vehicle, more precisely at a rest area in Finland, where our Russian partners Svetlana and Daniil were traveling with their first child. The family was quite surprised to discover that they couldn't just fill up the tank and eat here – the rest stop was actually more of a meeting place, with a store, a cozy café, and a play area for children. And what did the rest area have in the play corner? Why a QUADRO Playcenter, of course. The family hadn't seen anything like it before. Upon leaving, the daughter steadfastly refused to leave her new favorite toy. Only after the parents pinky swore that they would get her something similar when they got home could the family continue on their journey.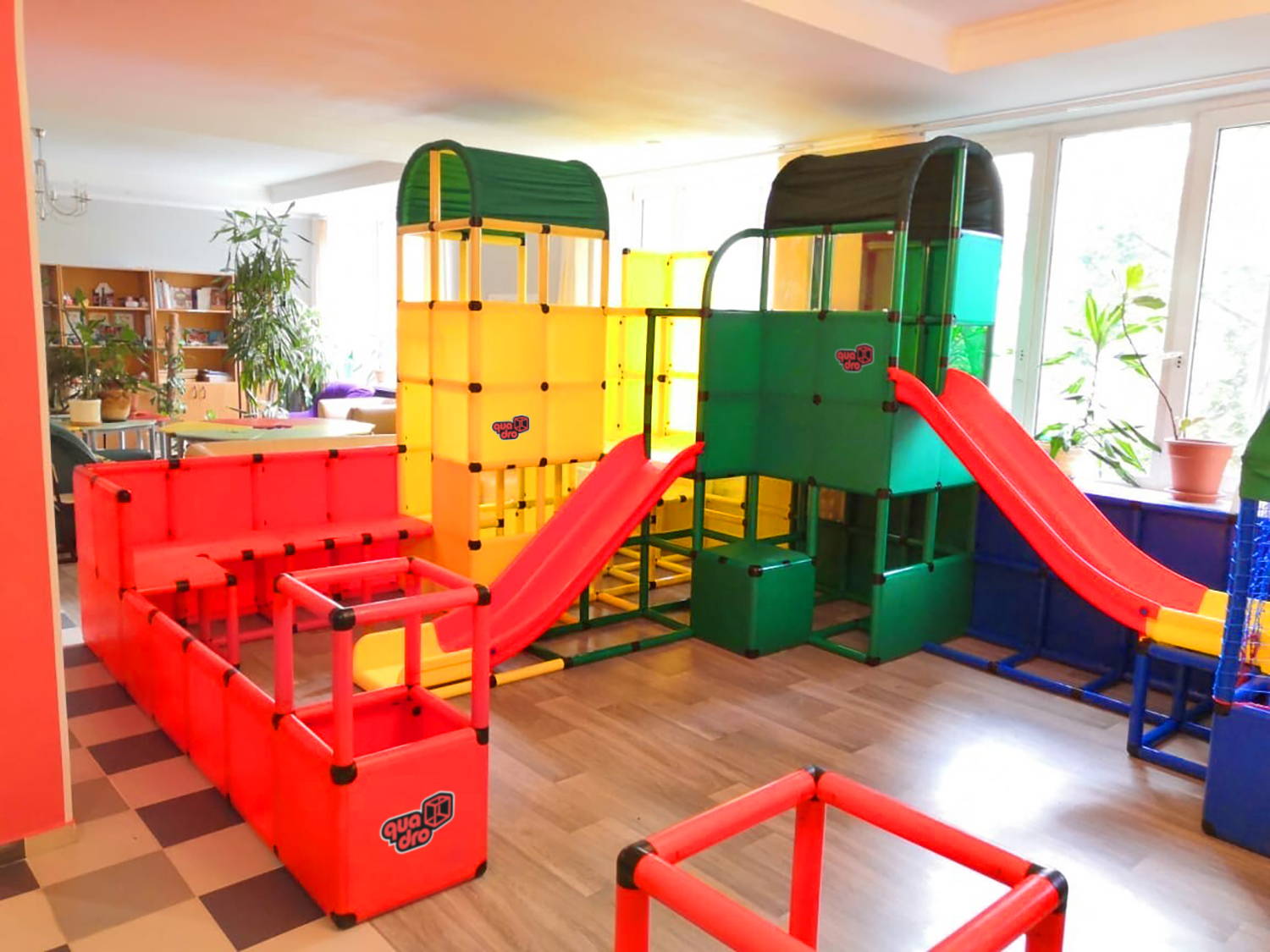 In the meantime, Svetlana and Daniil have been QUADRO's distribution partners for nine years, primarily selling QUADROpro Playcenters and Mega Playcenters to daycare centers and schools. The concept has been so well received, in fact, that even cafés like Cannoli in St. Petersburg wanted to have a play corner with a slide and a ball pit. There, the youngsters can immerse themselves in an exciting, colorful world while their parents relax and chat over a cup of coffee and a piece of cake.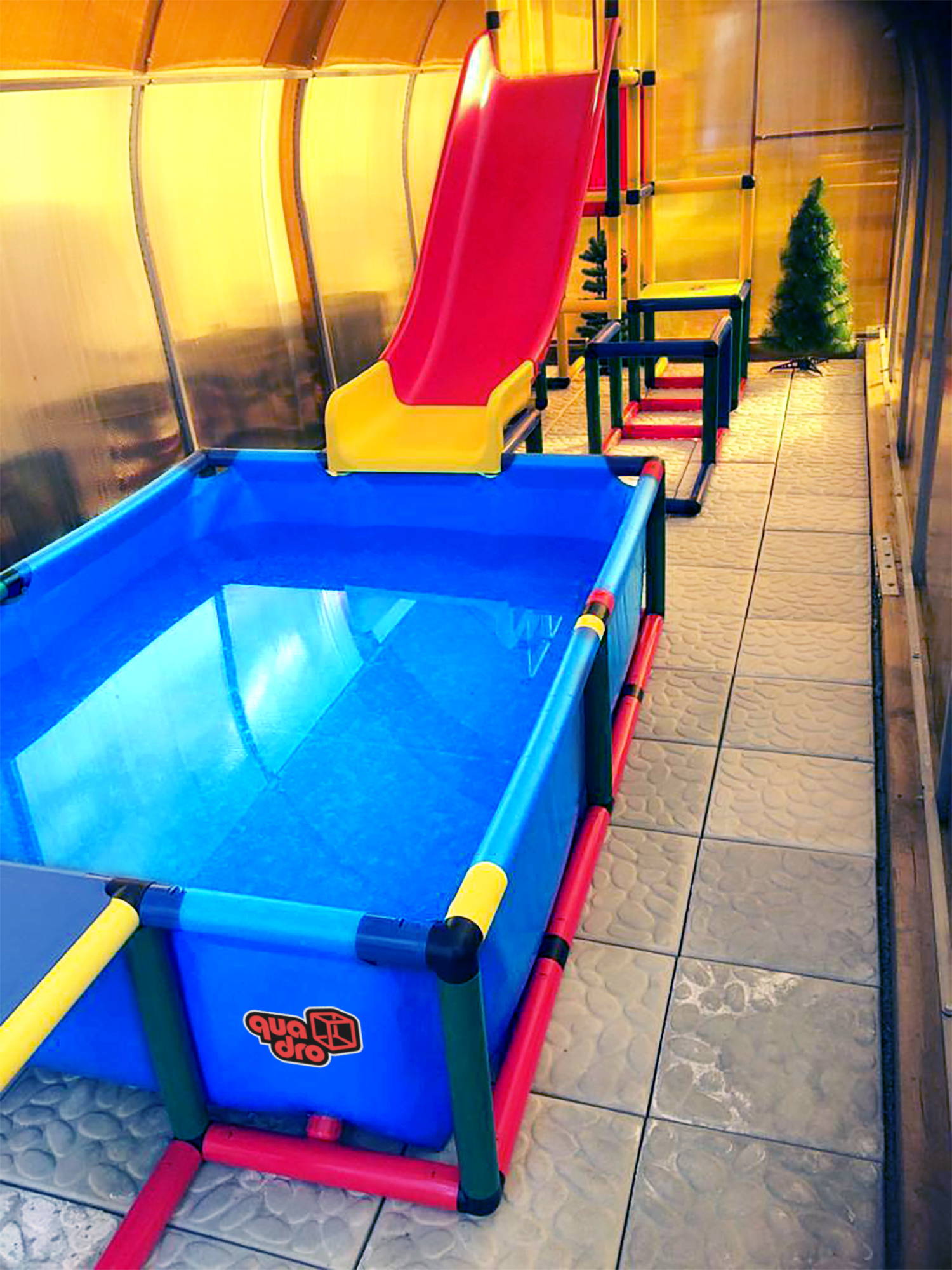 Private customers also like to purchase QUADRO products – a family from Russia simply set up their QUADRO jungle gym on the enclosed terrace so that their children could enjoy the feeling of being at the swimming pool even during the coldest months of the year.
Besides that, many like to assemble the tubes into sleds in the winter so that their kids can have a blast in the snow.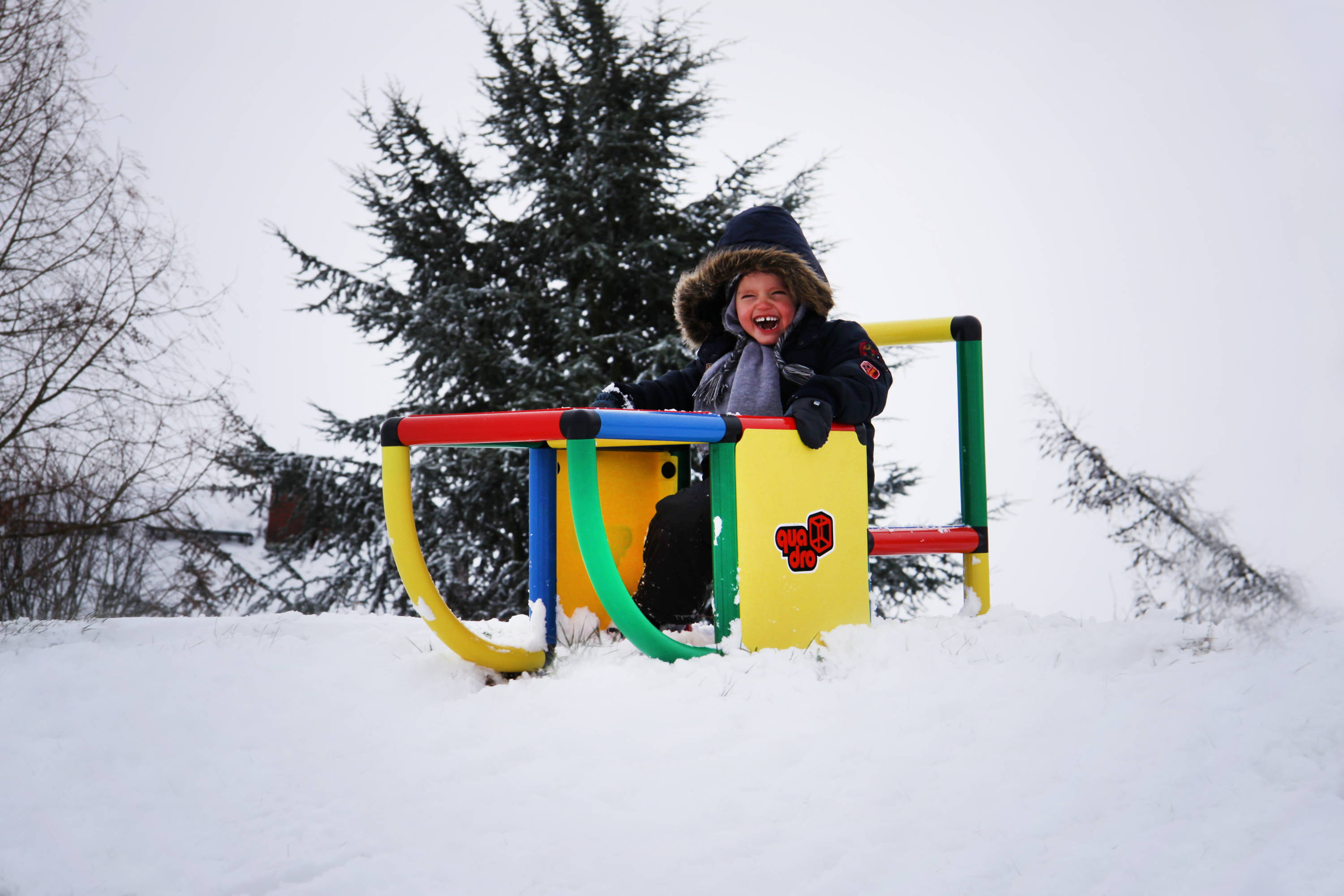 Svetlana and Daniil are, of course, also diehard QUADRO fans themselves and assemble different creations for their children at home. Their second daughter made her first attempts to stand using a QUADRO pole – and when she learned to walk, QUADRO was also there, of course. In the meantime, the little one walks confidently through the family's backyard and is sure to become an expert climber one of these days!
We look forward to presenting more reports from our friends in Russia, and hope you enjoy them as well.