Like she does every morning, Helene hurries off to work. She happily puts the key in the lock as she stands in front of the entrance, turns it once, opens the door, and enters her kingdom – her own store, which she's dreamt of having for some time. This is one of many dreams that have come true for her. Before she opens for business, she sweeps the floor and places the goods on the shelves so that the customers, who have grown very fond of her, can find everything their hearts desire. Like pasta – thick and thin, spiral and straight. And bulgur – because it contains so many nutrients. Only the best and healthiest is good enough for her clientele. That's why fruit also has a special place in the store. Today she has apples, bananas, oranges, and – in keeping with the season – plums on sale.
No sooner has Helene neatly handwritten the price list for today and posted it than the doorbell rings. Martha! She's always the first customer, and Helene's favorite. After a chat about the weather, family, and how wonderful life is, she picks out some juice, a box of chocolates, and half a pound of butter.
Oh no! Martha forgot her purse.
"Don't worry about it," says Helene calmly. Good customers can put it on their tab, of course.
"I trust you." Helene hands Martha her shopping bag and says goodbye with a smile.
Shortly before closing time, the last customer rushes in because he's out of salt. Once he's also gone, Helene closes her little shop and thinks to herself, "and what if a new dream of mine comes true tonight?" Just because.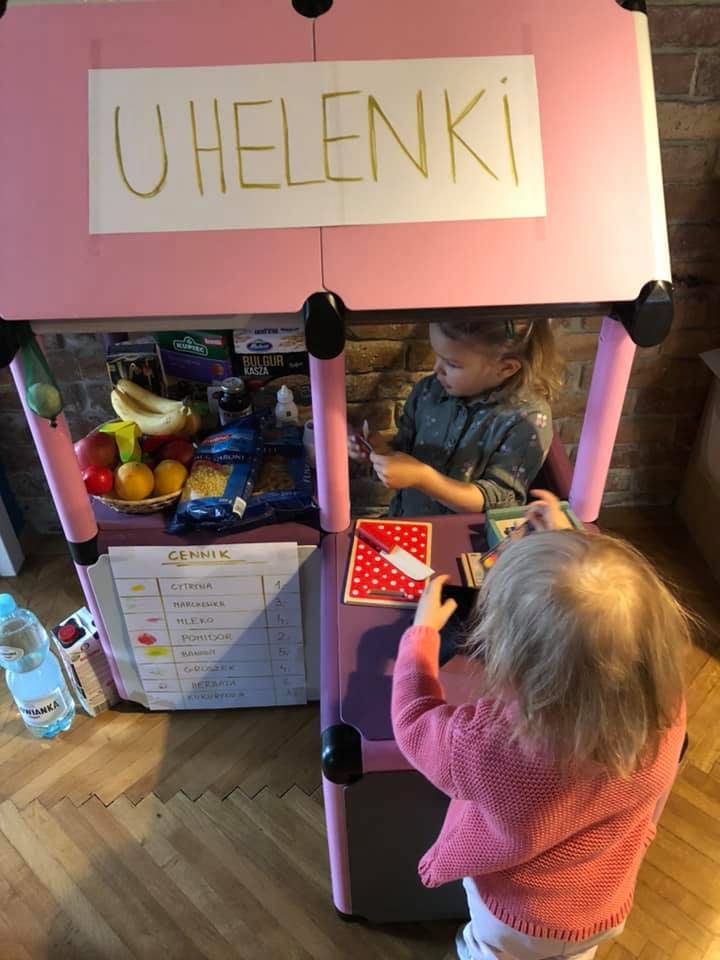 She eagerly awaits her dad, who's coming home from work.
"I would reallllly love to have a pirate ship," says little Helene. "A huge one!"
"A pirate ship," thinks dad, "nothing easier than that." He sits down at his drafting table – he is an architect, after all – and designs the most awesome pirate ship that his two daughters Helene and Martha can imagine. It has a wide bow, plenty of space for plundered booty like pineapples and coconuts, room for the crew, and – most importantly – a bridge from which Helene can look out over the vast turquoise sea through her binoculars. The sea is calm now, but who knows for how much longer...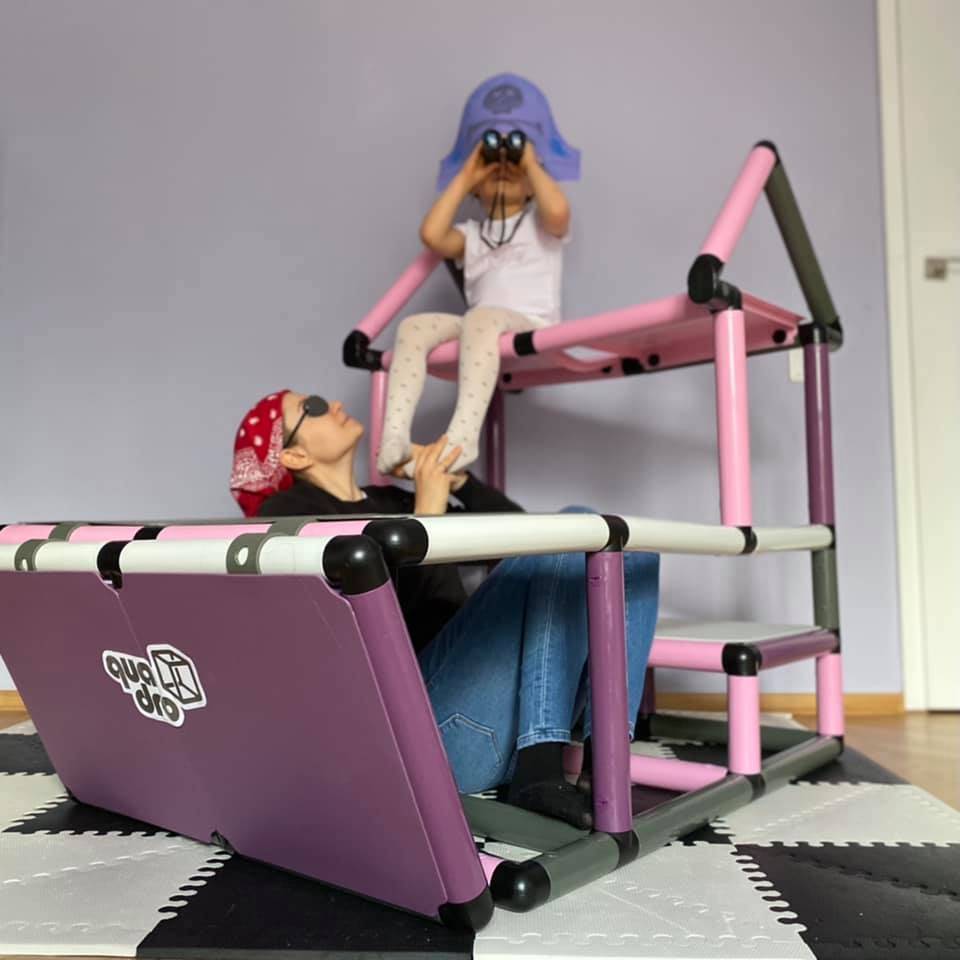 Down in the engine room, Kathrin is hard at work. As Helene's mother, she's been sailing the oceans with her ever since she can remember. Encounters with other pirates have left their mark – an eye patch covers her right eye; a scarf protects her from the wind and the blistering sun of the South Seas.
But her role isn't just that of a sidekick. A few days later, she transforms the QUADRO ship into a barefoot path consisting of several squares with panels, each containing different materials, such as pebbles, soft grass, wet clay, white beans, flour, and sawdust. This isn't just a lot of fun to walk on and also relaxing after a long day as a pirate, but offers a variety of different sensory experiences, stimulating the senses of the two girls – whose feet spend most of their time in shoes – in an incredibly unique way. This is good for the entire body, whether that of a pirate or a shopkeeper.
The father an architect, the mother a child therapist, an older daughter with plenty of imagination, and a younger daughter who's up for anything – they're the perfect team. Especially since they have QUADRO at home. This allows them to repeatedly come up with fantastic ideas, right there in the middle of Poland where the family lives. Friends of the two girls who come to visit don't just marvel at the slide in the living room – when they see Helene's store, they scream in delight, raiding their piggy bank to buy fresh groceries from her. They rarely shop at the supermarket anymore, usually only when there's a new QUADRO set for sale. They have so many good ideas for cool things they want to build.
And pretty soon they will be creating them with their own parents!
Did you like this little story? Then we have another one for you: Here you can steal away to the desert.