Learning Towers – A Playful Way to Increase Self-Confidence
Curiosity drives humanity forward, leads to groundbreaking discoveries, introduces us to new, hitherto unknown things. The foundation for this is laid in childhood – children are incredibly curious, always want to learn more, want to be part of everything. Learning towers support them in their development into bright and agile individuals who thrive, are completely healthy, and are brimming with basic confidence. In this article, you'll learn why that is and why learning towers make learning even more fun for the little ones.
Why Learning Towers?
Maria Montessori, the founder of the Montessori method of education, recognized early on that children learn best when they are given free space. They develop differently – except for key stages that are the same in most children. When they explore the exciting world around them at their own pace and in their own way, the focus remains on their own individuality, on their needs, talents, and interests. But also, simply on the joy of exploring. Thus, they gradually become increasingly independent, gain confidence, and develop into self-assured children.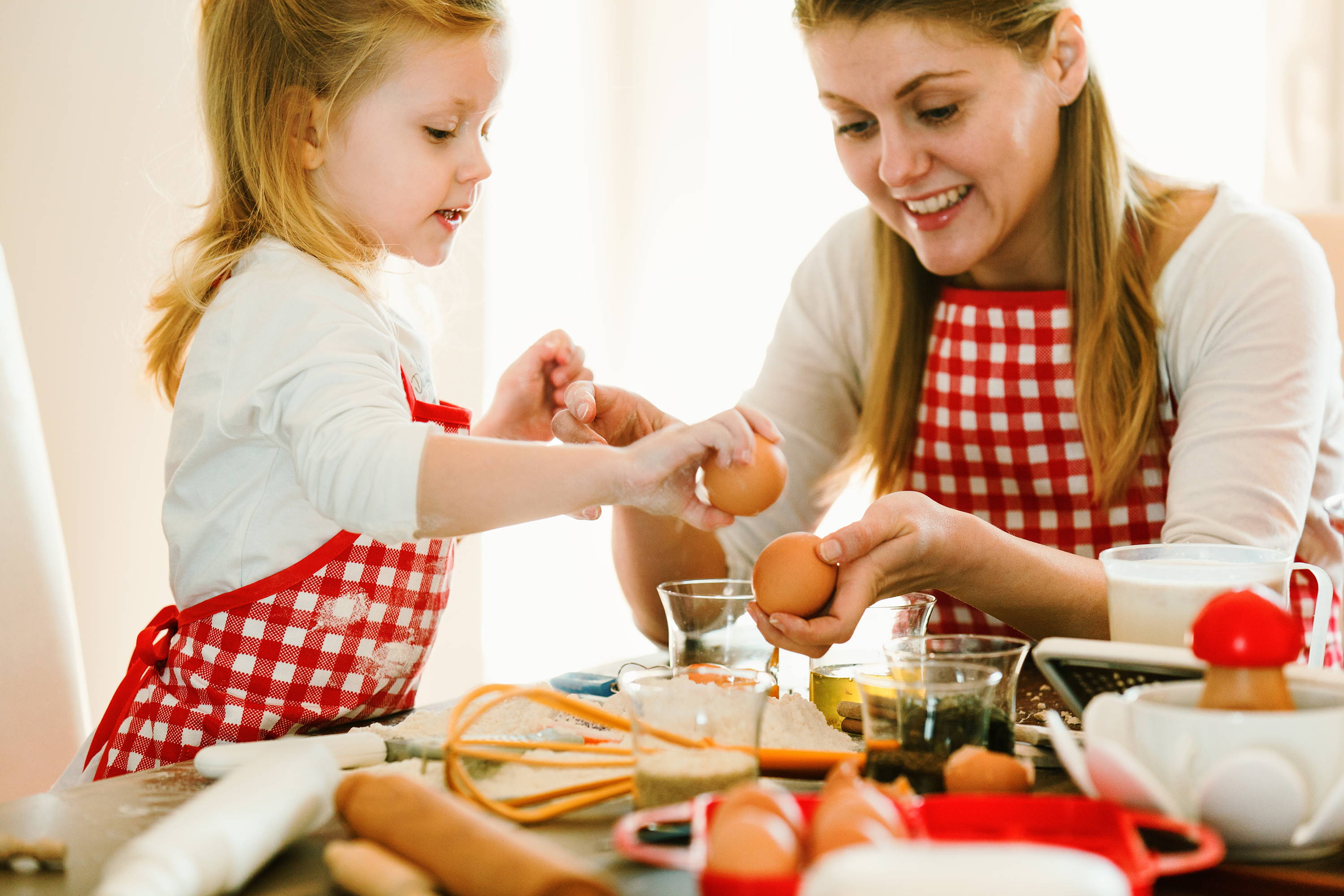 In line with Montessori's guiding principle "help me to do it myself," a learning tower integrates the little ones into everyday activities, helps them discover things that adults take for granted and no longer even notice in a whole new way, and allows them to learn playfully at a rapid pace. And they never cease to be amazed.
Learning Towers Can Be Used in Multiple Locations
"It's fascinating how dad spreads the broccoli on the family pizza! Maybe I can help him with that soon. And the many colorful scraps on the arts and crafts table from grandma are great too, I like to arrange them in my own way. And what is grandpa doing with the carpenter's plane on his workbench?" Even their big brother's bookshelf, parents' huge closet, or the toiletries on the bathroom sink magically attract the tots and encourage them to participate in day-to-day life. They experience their first successes, such as when they're able to wash their own hands for the first time.
Children are born practically out of nowhere into a tremendously complex world that they can't even begin to comprehend. Our job as parents is to gradually familiarize them with reality. The munchkins understand it in a whole new way, quite literally, by grabbing the bars, climbing up the tower or being lifted into it by their parents, and at the top maybe picking up a slice of apple or the colorful decoration for the window ornament they're currently making. And we, too, suddenly see the world from a new perspective – through the eyes of our children.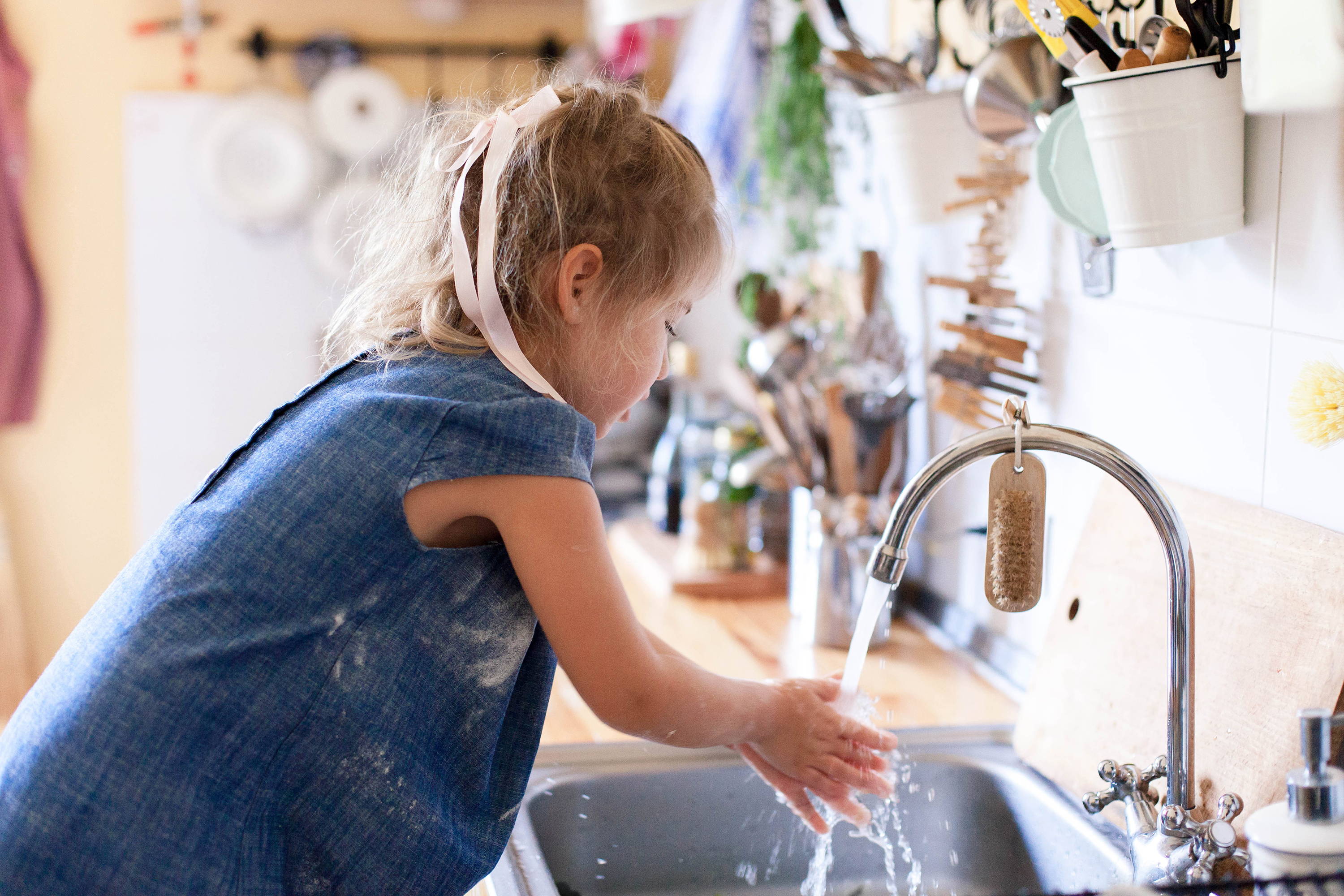 What Are the Benefits of a Learning Tower?
It boosts their motor skills and trains their sense of balance. But that's far from all. Learning towers have a positive effect on young children's development and increase their presence. On the one hand, they now have the opportunity to observe what has so far remained hidden from their vantage point from below and which, of course, interests them that much more. Suddenly they're in the middle of the action. By observing and participating for the first time, a bright child learns processes that he or she would otherwise only learn much later – and does so in a creative and intuitive way. But it doesn't stop there – as soon as they discover something, they want more of it, they want to know more and more, they develop little by little. They're able to climb up the tower on their own. And back down again. This gives them a completely new level of independence.
The little ones can become familiar with some basic routines at an early age, especially in the kitchen – first the mushrooms get washed, then mom chops them, and only then do they go into the pan. But before that, the heat needs to be turned down a little. Along the way, the youngster learns a lot about healthy food and is eventually able to make their own debut on the culinary stage, such as by helping crumble yeast when you're baking bread, for example.
Through these seemingly mundane activities, young children build their self-efficacy. They feel up to the small day-to-day tasks and challenges because they've already discovered the initial abilities that lie dormant within them. In this way, parents show their offspring that mom and dad can help, but you can do many things quite well on your own. And these first playful lessons have a lasting effect all the way into adult life, where it becomes increasingly important to believe in yourself and your abilities. But that's still a long way off ...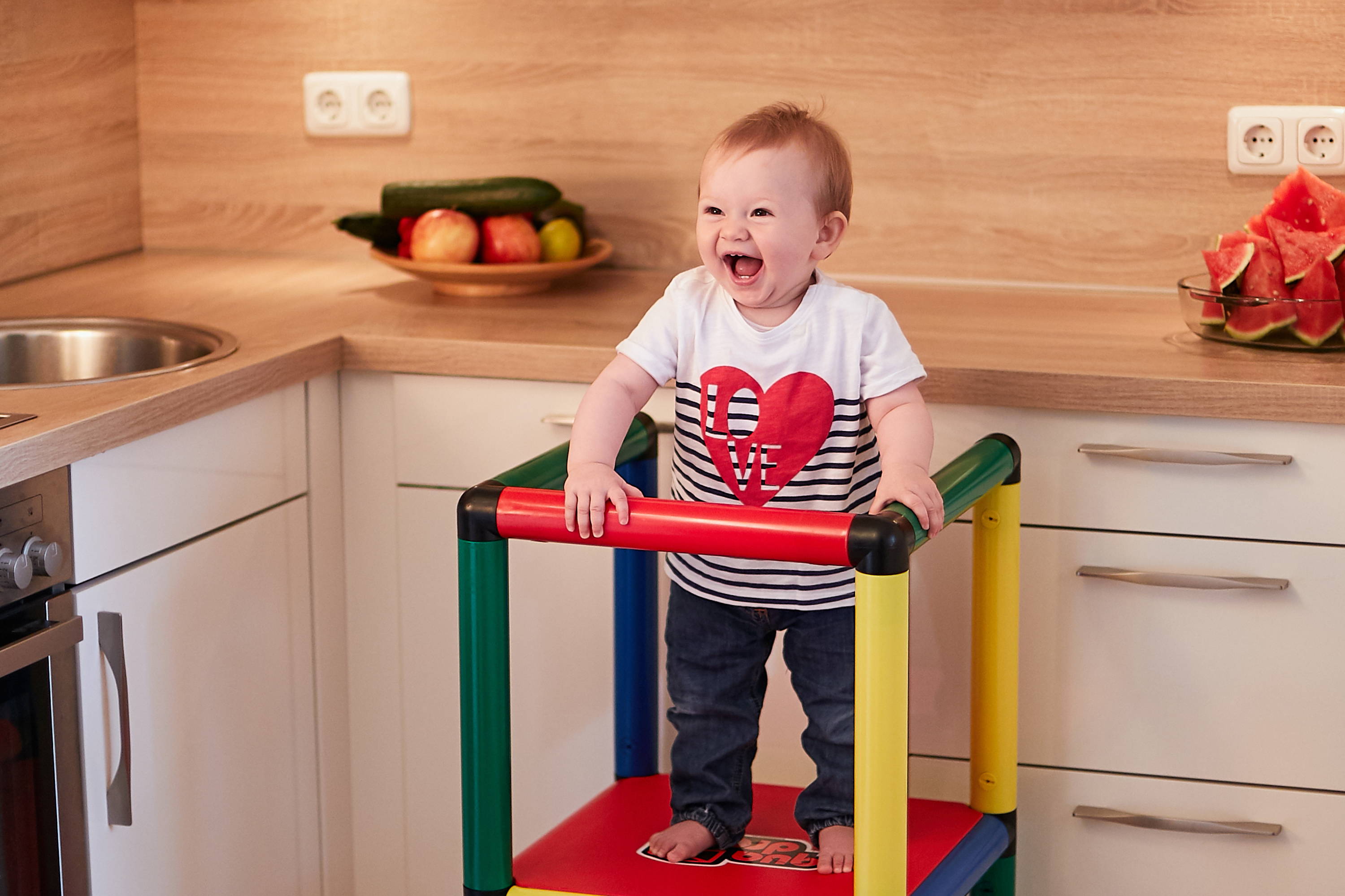 The good news is that a learning tower not only benefits our little ones, but also ourselves, because it takes some of the burden off of us. After all, we don't have to hold our child up all the time and can give our muscles a break. We can just take them with us to wherever we are and let them watch. And we always know where our sweet pea is at any given moment and what he or she is doing – a huge relief during day-to-day life. The little one is occupied, learning something for life, all while experiencing a little adventure at the same time.
What Age Are Learning Towers Suitable For?
That depends entirely on the child – and on his or her stage of development. As their mother or father, you're in the best position to judge this. Does the child still have problems standing up unassisted? Then maybe it's too soon because you'd still have to hold them. Can the child already stand confidently and hold on to the railing of the learning tower by themselves if they begin to lose their balance? Great, then a learning tower is a good idea. In this case, select a tower with a platform height of 25 cm (approx. 10 inches), which is ideal for small children. If they are older and can climb the tower on their own and hold onto it, they are ready for it. Nevertheless, it's important to supervise your child at all times so that you can intervene if the need arises.
What Kinds of Learning Towers Are Available?
Learning towers come in a variety of forms. They vary in size, design, and can be used in a variety of ways. The prices also vary. Some are shipped preassembled, while others need to be assembled upon delivery. The most common materials used are wood and plastic, and in some cases aluminum. The towers are either open or closed, sometimes foldable, and sometimes come with extras like doors, rollers, or even sometimes a blackboard. They also come in different heights. The bars, which all towers have in common, ensure that the child has something to hold on to. This is especially important at this age, as their footing is still a little shaky. If included, side panels ensure that the child can't fall out of the tower – putting parents and the child at ease.
What Should I Look For When Buying a Learning Tower?
Important considerations when buying a learning tower include the materials used, the quality, the size, and of course, safety. The material plays a critical role – high-quality and sturdy towers are mainly made of solid wood or heavy-duty plastic to ensure that they can withstand this turbulent stage in a child's life. Also pay attention to good workmanship. The design should feature rounded edges without any sharp corners. High-quality, solid wood or modern, preferably durable plastic and thick screw connections that hold the structure together are a good indication of a learning tower that is worth the money. The platform that the toddler stands on shouldn't be so smooth that the toddler can slip off. It's also crucial that its height and shape fit the needs of the child.
The tower should be light enough that you can easily carry it from one room to another, but at the same time large enough that the child has a secure footing in it. Having as wide a base as possible ensures that the tower won't tilt or fall over, even if your little adventurer is extremely active on it, moving back and forth. Stable feet are also a must. Learning towers should never be placed on slippery or wet surfaces to prevent them from sliding around.
Find out beforehand if the materials used are safe and do not contain harmful substances and chemicals. Material tests and GS marks offer guidance in this respect. Coatings must be food-safe and saliva-resistant to prevent children from ingesting harmful substances while playing.
It's best to make sure that the learning tower has received good reviews from reliable sources. When considering cheaper models, keep in mind that they may be of lower quality. A high-quality tower can be used later by the child's siblings or even their own children, which makes the investment worthwhile. If you purchased a learning tower with a modular design, you can also use it for other purposes.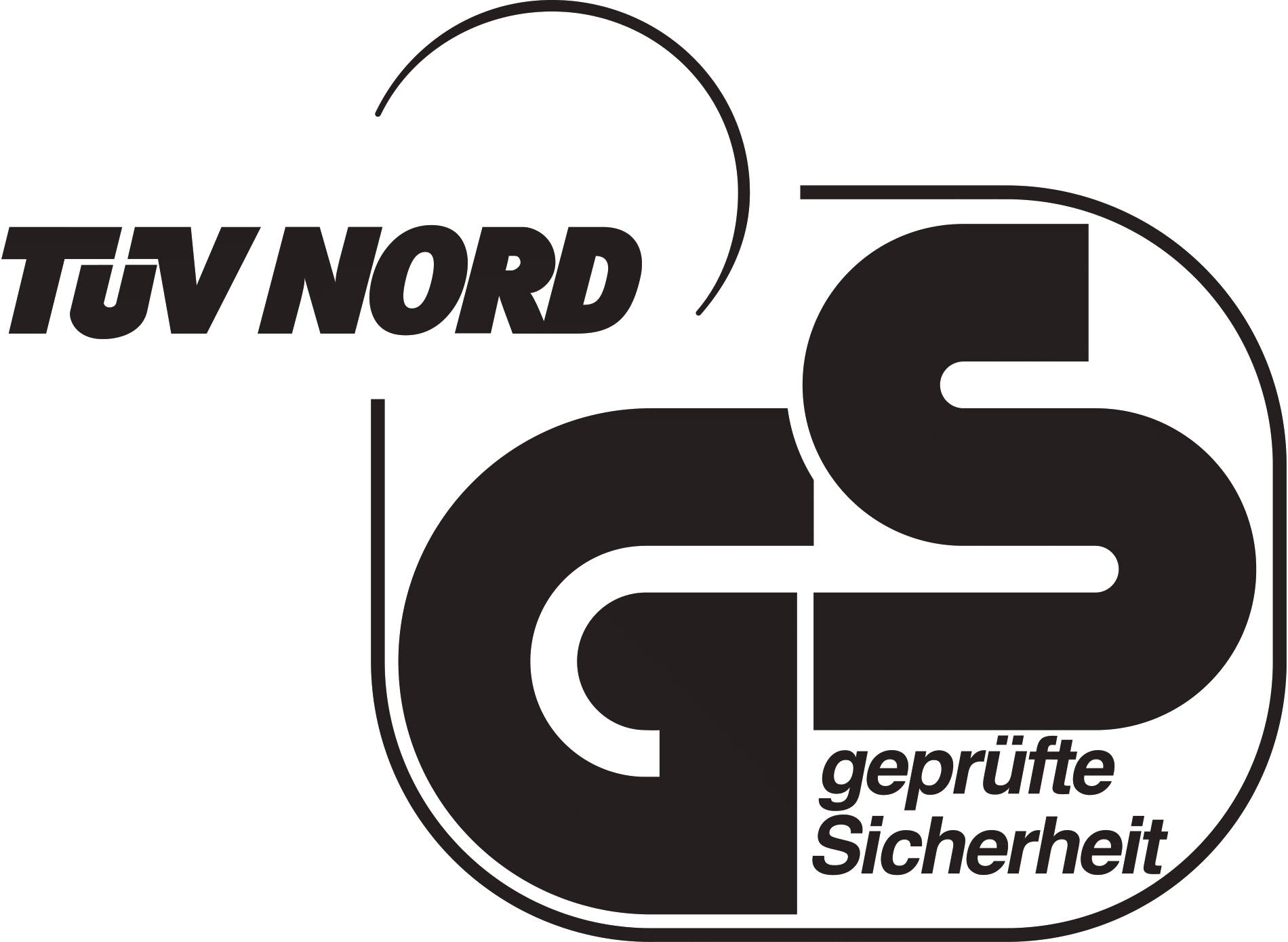 Multiple steps that allow children to climb up on their own and a height-adjustable base are great features – this ensures that the tower is always as big as it needs to be, so it suits your child's size and grows with him or her.
Make sure the learning tower is easy to assemble and that it matches your decor – then you'll have a real eye-catcher that you'll enjoy seeing every day.
Do It Yourself
If you want to build your own learning tower, you can find interesting DIY instructions on the Internet. If you have enough time and the right tools, go ahead and attempt a creation of your own. This way, your children will get to enjoy a highly unique learning tower and are sure to be quite happy about it.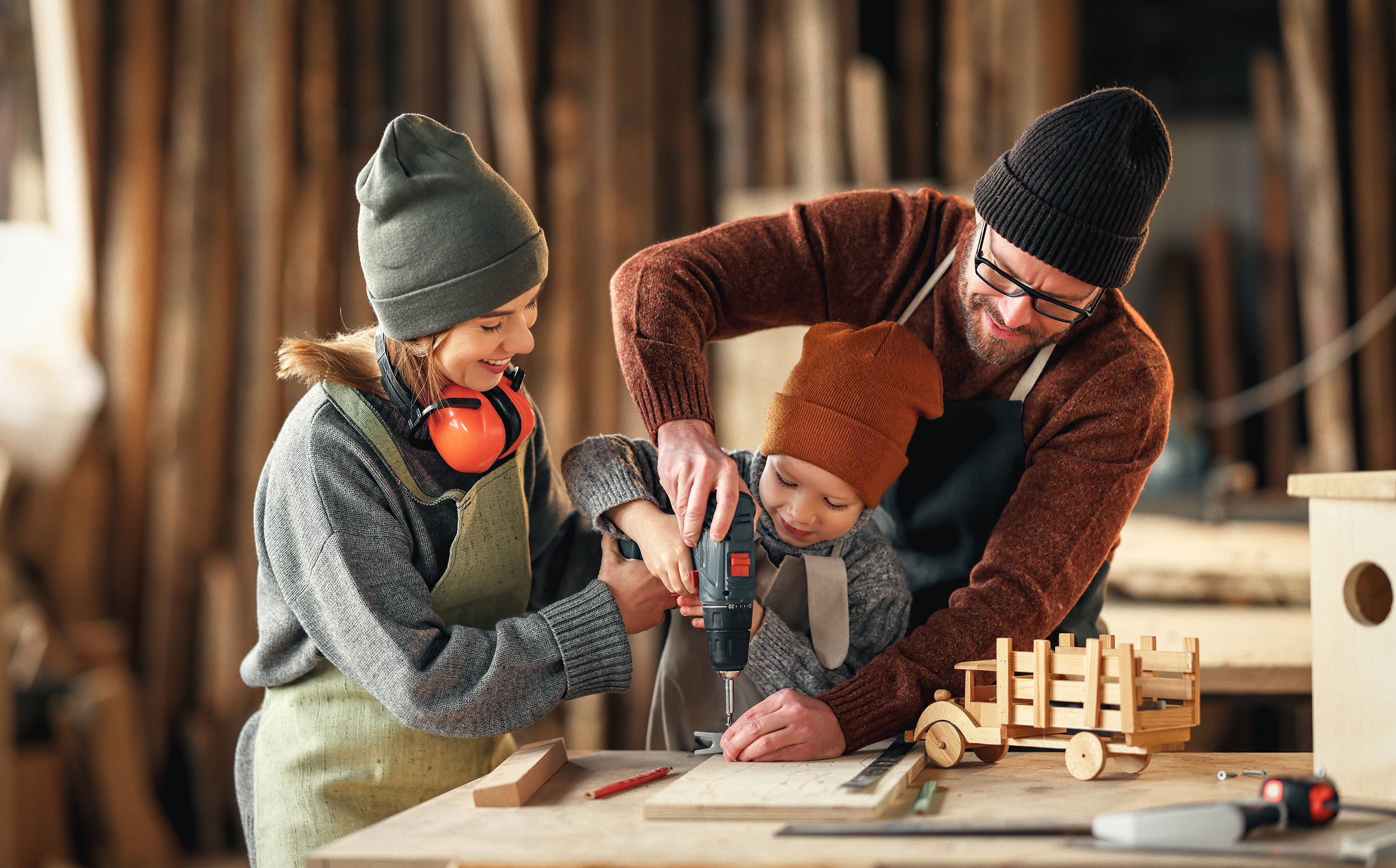 Assembly and Care
The general rule with learning towers – whether DIY or store-bought – is first put it together, then play on it. Young children can swallow small parts such as nuts and bolts and risk suffocation. That's why children should never use learning towers until they are fully assembled. You should also regularly maintain and take care of the tower. This will ensure that it remains in good condition for many years.
The Perfect Spot for a Learning Tower
In this case, safety plays the most important role. Think carefully about where to put the tower. Place it on a flat surface and clear away anything lying around so it doesn't accidentally move. Only use the learning tower in its intended upright position and plan the height so that your child can easily reach the place he or she is supposed to explore, such as the countertop in the kitchen. The platform shouldn't be higher than 40 – 45 cm (15 – 18 inches), which is the height of an adult's knees. Make sure that the structure is stable and can't tip over, even if the child leans out of the tower.
One thing you should never do is put the tower right next to the stove or near hot water. You should also put away any sharp objects so your child can't hurt themselves on them. The same goes for anything toxic, spicy, or hot. You need to know that once your rug rat learns how to use the tower and has enough strength to move it, they'll be able to push the tower to places where they're not supposed to go, such as the medicine cabinet. Better keep anything that isn't safe out of reach. Just listen to your intuition. Often, a combination of the father's and mother's assessment of potential risk is ideal and makes the most sense for the child.
Nevertheless, even if you take all these precautions into account (and you should), it is essential that you keep an eye on children in the learning tower at all times and never leave them alone. Delight in your little explorers' boundless curiosity, but don't let them get carried away and climb onto the countertop. Then everything will be fine.
Wood or Plastic?
It's best to choose the type of material that suits you and your child and that you feel most comfortable with. Both have their advantages. Solid wood is inherently stable, but often relatively heavy. It stands out for its appearance – the characteristic wood grain simply looks great. If you have a lot of wooden furniture, a wooden learning tower is a perfect match. In addition, wood radiates warmth and security. It can be painted, plastic usually can't. Both materials can handle high temperatures well – they won't be affected by a pot of boiling hot water that accidently slips out of your hand.

Wood is environmentally friendly as long as it comes from sustainable sources. Recognized quality seals include the Naturland ecolabel, the FSC seal, and the PEFC seal. If the raw material grows in local forests, the supply chains and transport routes are short, which also benefits the environment.
The disadvantages of wood include that it requires continuous maintenance (painting, varnishing, impregnation) to prevent the absorption of moisture, the formation of mold, and splintering due to the fact that individual fibers eventually give way due to natural stress. Wooden towers are disposable products that must be thrown away once they have reached the end of their useful life. Depending on the quality and type of wood, this could be anywhere from a few years to a few decades.
Learning towers made of plastic initially combine all the advantages that plastic has over wood. Plastic doesn't absorb moisture, which is ideal for use in the kitchen when your little ones are handling liquids there. Or in the bathroom while brushing their teeth. Theoretically, it would even be possible to put the learning tower in the shower, whether it's to clean up your child sitting down after a muddy adventure or to quickly and easily wash down a learning tower that may have been in the backyard and is covered in dirt.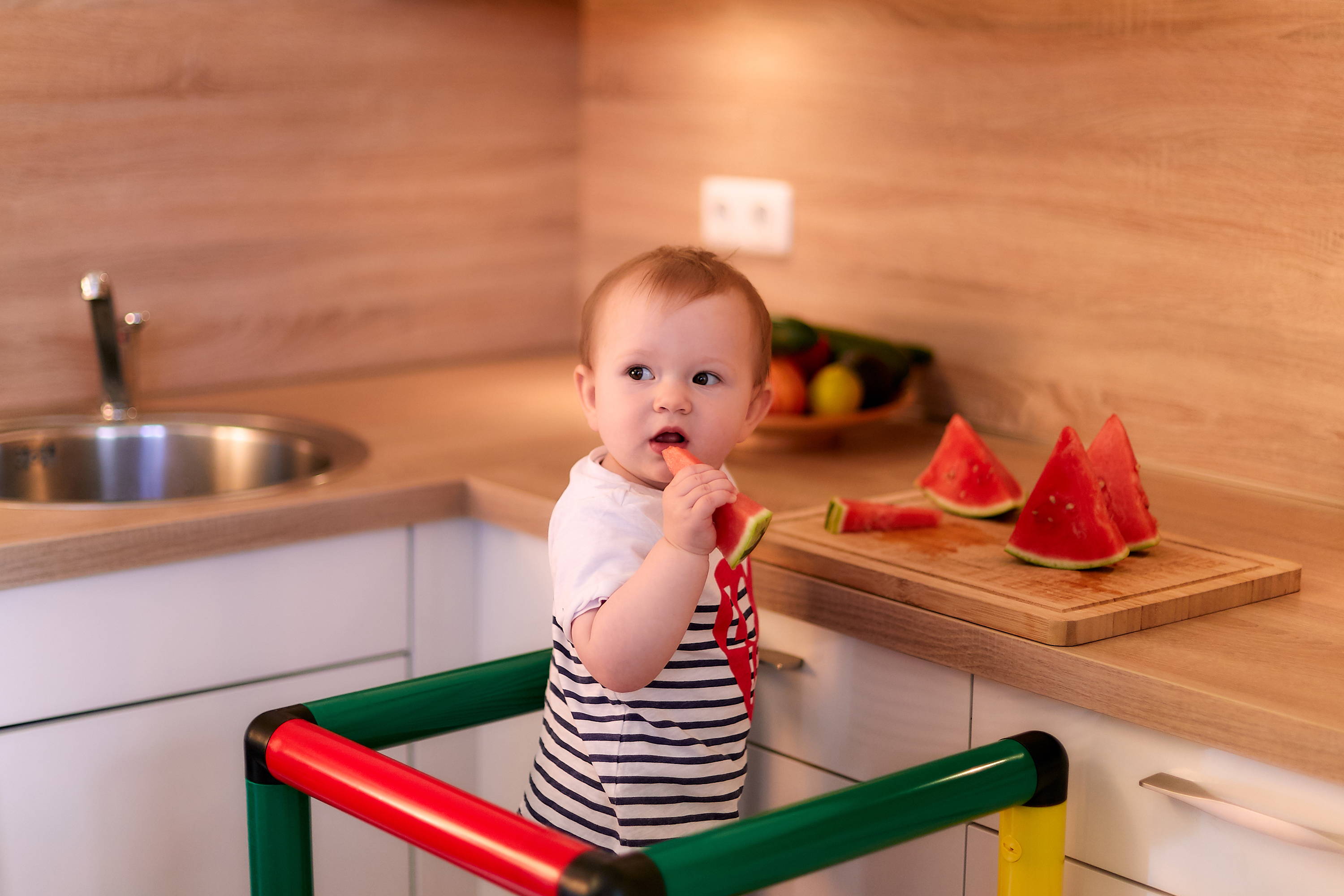 When used in the kitchen, things like strawberry juice or peanut butter can end up on the material, but that doesn't affect high-quality plastics. They are quick and easy to clean and sanitize – not even household cleaners, green soap, or dishwashing detergent can harm them. But the best part is that models made of plastic can be taken outside, both in summer and winter, because they can easily handle mud and grime. They don't absorb water or any other substances and can be easily wiped off afterwards and used again indoors without leaving any marks on the carpet. Since high-quality plastics also don't absorb odors, you can use them inside right after they were used outside in the yard. And if they do happen to smell of soil, leaves, or grass, a quick wipe down and the learning tower will be as good as new.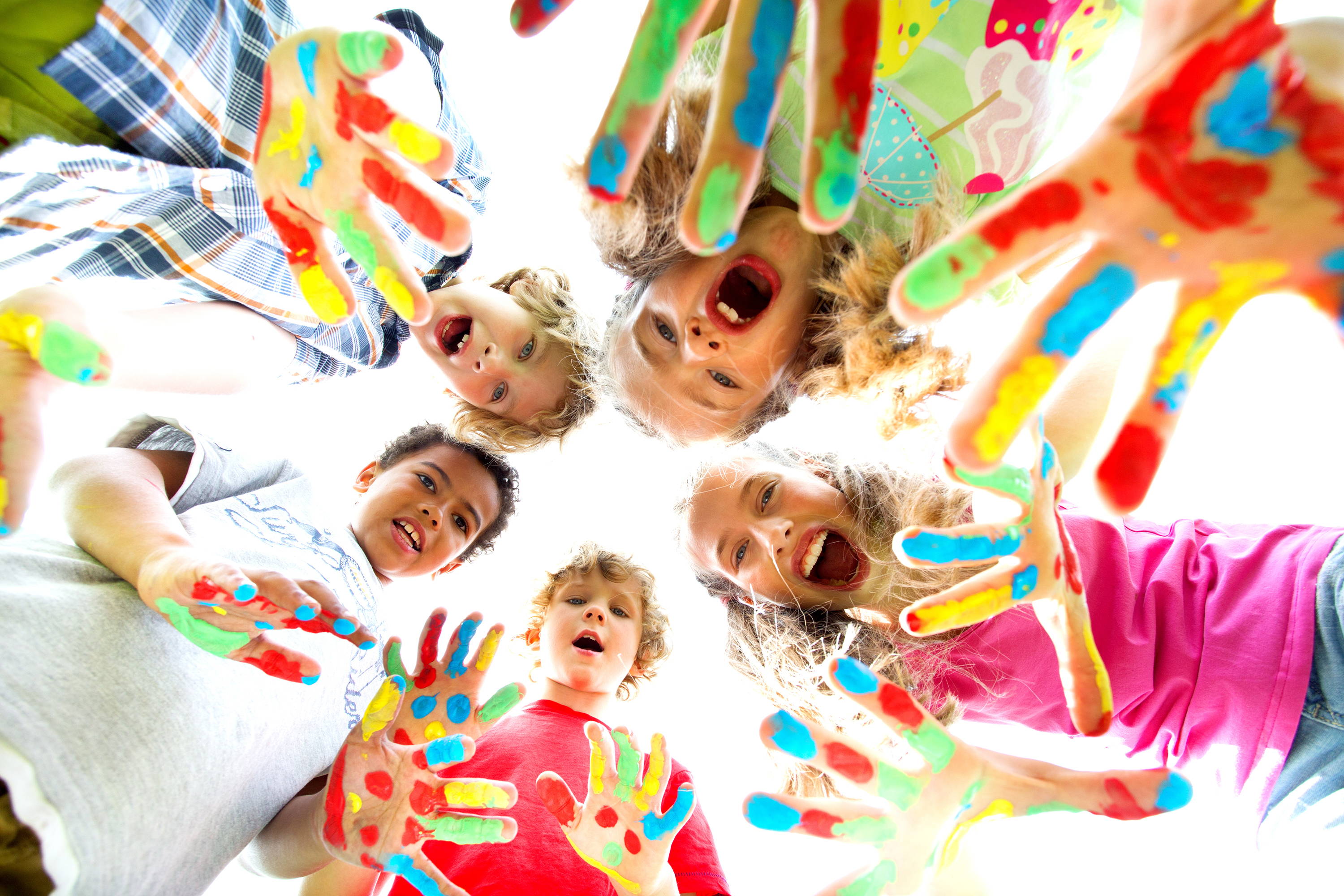 As for the colors, the sky's the limit. Plastic towers come in all sorts of color combinations, and that's a good thing, because children love colors, especially the colors of the rainbow – this additionally stimulates their urge to play. You can also opt for a muted version in a solid color that will blend more harmoniously into your home, of course.
Conclusion
As a cross between a toy and a learning tool, the learning tower is simply unbeatable and satisfies your children's almost insatiable desire for knowledge. A child who learns something new in this way is guaranteed to also have a lot of fun doing so. And you're sure to share the feeling – when you watch your child, guide them, and help them along the way. This is how you perfectly prepare them to become a self-determined, well-adjusted individual. So what are you waiting for? :-) Have fun trying it out for yourself!
Why Did We Write This Article?
For one thing, because numerous rug rats – including our own – have already discovered the exciting adult world with our learning towers. And because we consider the learning tower to be essential to children's development. That's why we start small, with a platform height of 25 cm (10 inches), which offers an easy climb up and instant success. Your toddler is sure to be grinning from ear to ear and feel really proud when they've cleared this initial obstacle. We came up with the perfect platform size to make them feel safe during their first attempts – all the way back in 1979. It's slightly textured, has a sort of elephant skin to prevent kids from slipping, but is still easy to wipe clean in case of spills.
We made sure that the design is suitable for children, with warm tubes that are perfect to grab hold of. Our learning towers have no sharp edges at all, everything is nicely rounded. The side panels offer the little ones a secure hold. Once they've mastered "level 1," they move on to a slightly higher platform: approx. 45 cm (18 inches) high. This is roughly the height of an adult's knee and ideal for toddlers who want to reach the sink independently.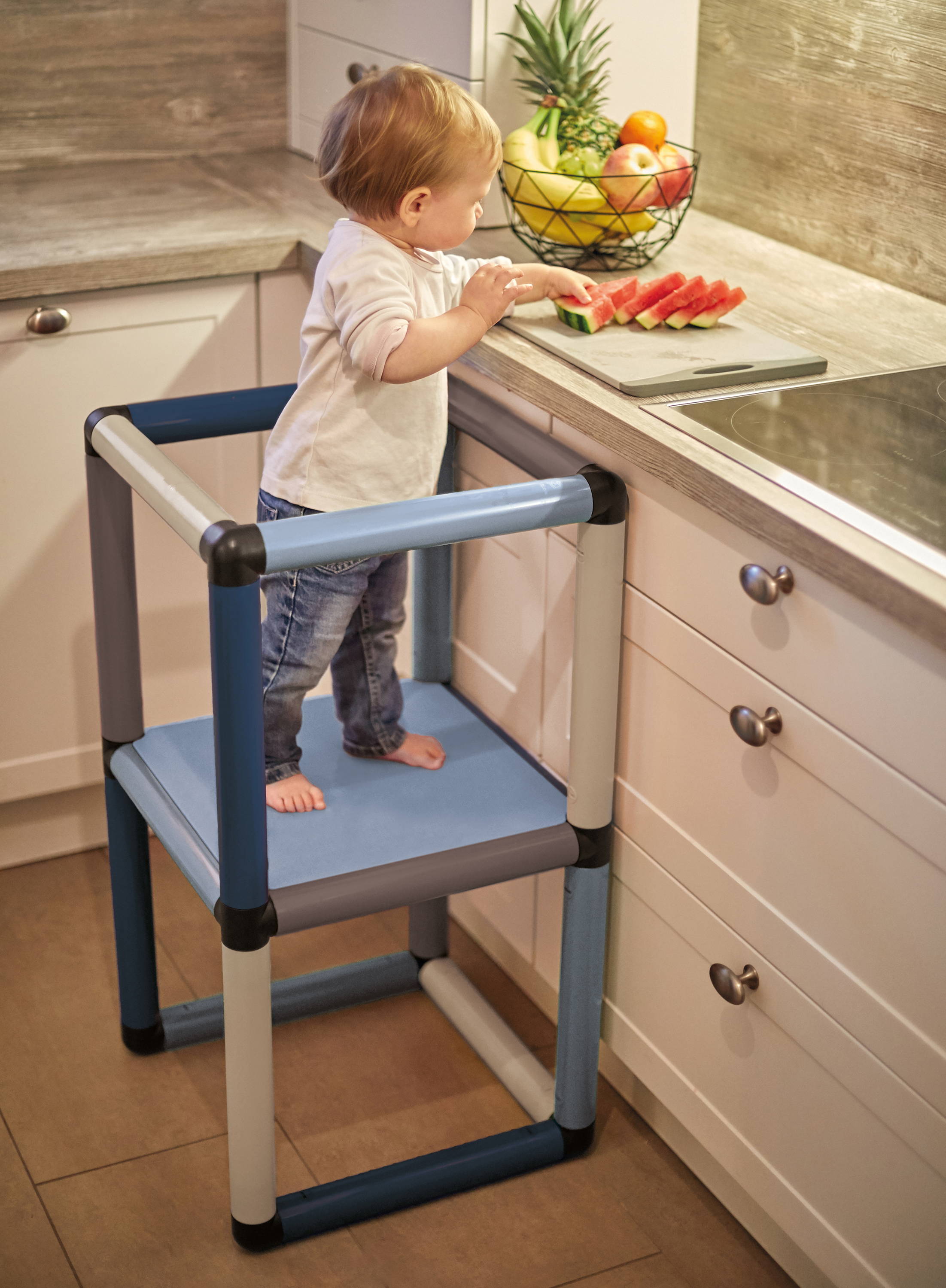 With QUADRO, you can customize the learning tower to precisely fit your children and their needs. Thanks to the PLUG-IN-SYSTEM patented in 1979, each tower can be quickly assembled and taken apart again – in case it needs to be placed somewhere else after all. And you can reassemble it over and over again any way you want, without the need for hammers or saws, complicated instruction booklets, or multiple trips to the hardware store because you forgot something. This means you can repeatedly build new learning tower models. And if you ever run out of ideas, our model database is sure to help – it contains a number of suggested designs.
You can build your own learning tower completely closed, with one or more open sides, or completely open, depending on your mood and what your child intends to use it for. When your children get older, you can then convert the learning tower into a jungle gym. This means that they can not only crawl through and conquer the first differences in height, but also climb higher. The best way to get started is with the Beginner Set from QUADRO, which includes 116 pieces that you can use to create 24 exciting designs. If you combine it with a second Beginner Set later on, you can build an even bigger learning tower – or something completely different. What are you in the mood for?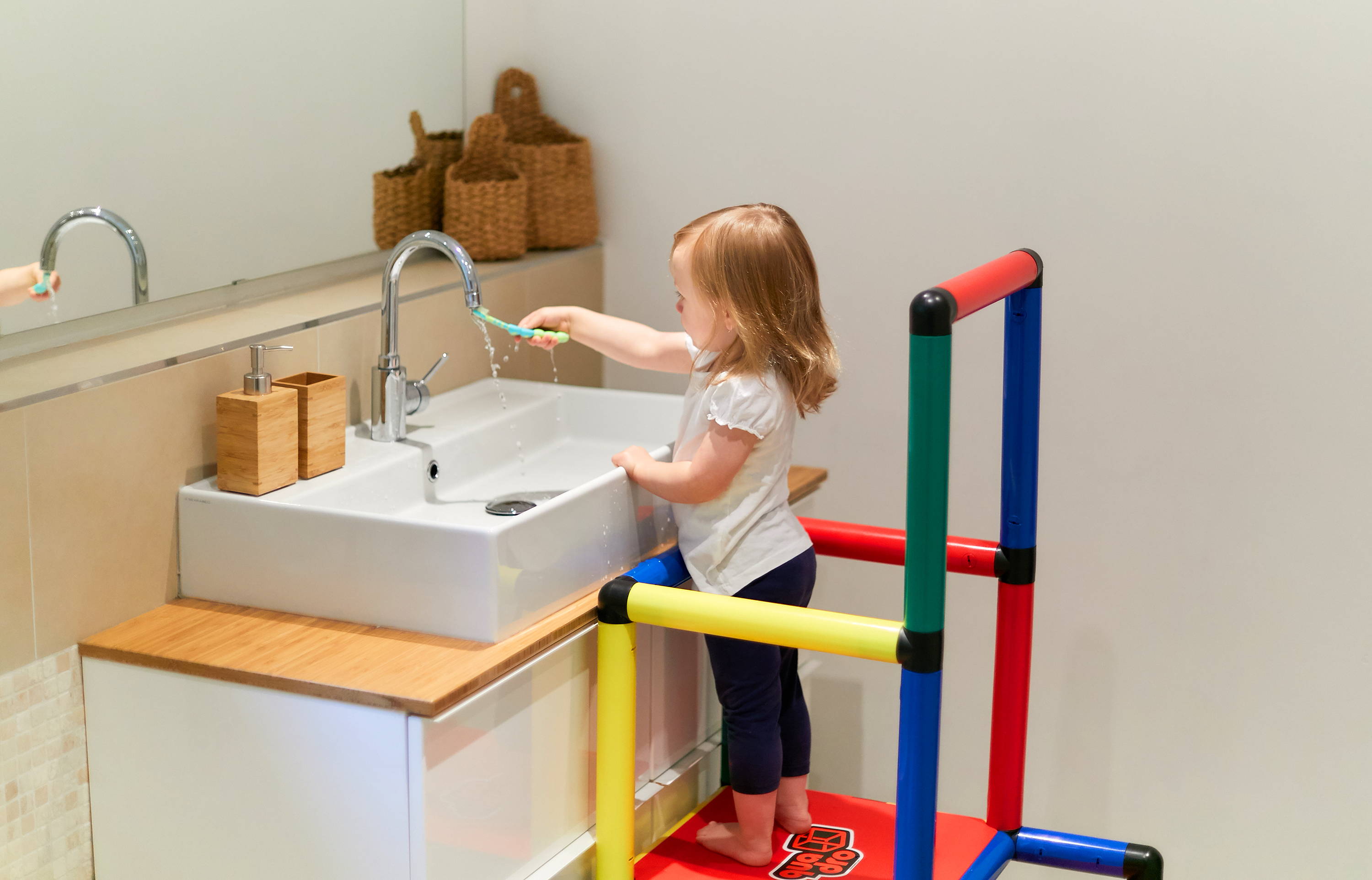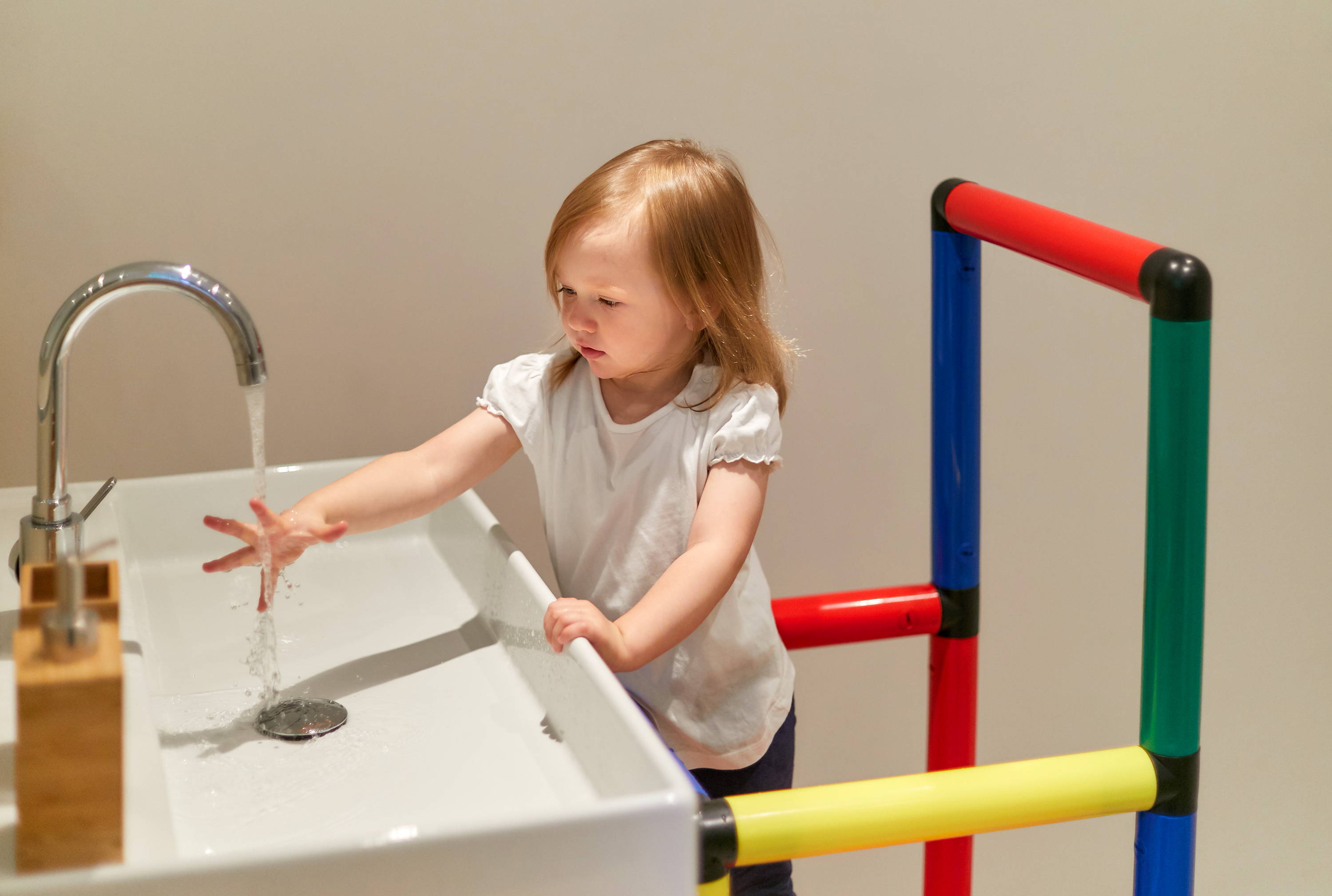 Since QUADRO's construction kits are more or less infinitely expandable (the only limit is the size of your home or backyard), you don't have to constantly spend extra money on new toys and learning materials. In addition, QUADRO is good for the environment and your children's health – our jungle gyms are completely odorless and free of plasticizers and PAHs. The fact that they are so durable and last for several generations makes them truly sustainable – as does the fact that we have short supply chains. This is because QUADRO products are 100% made in Germany – including production, packaging, and warehousing, as well as further development, administration, and worldwide distribution.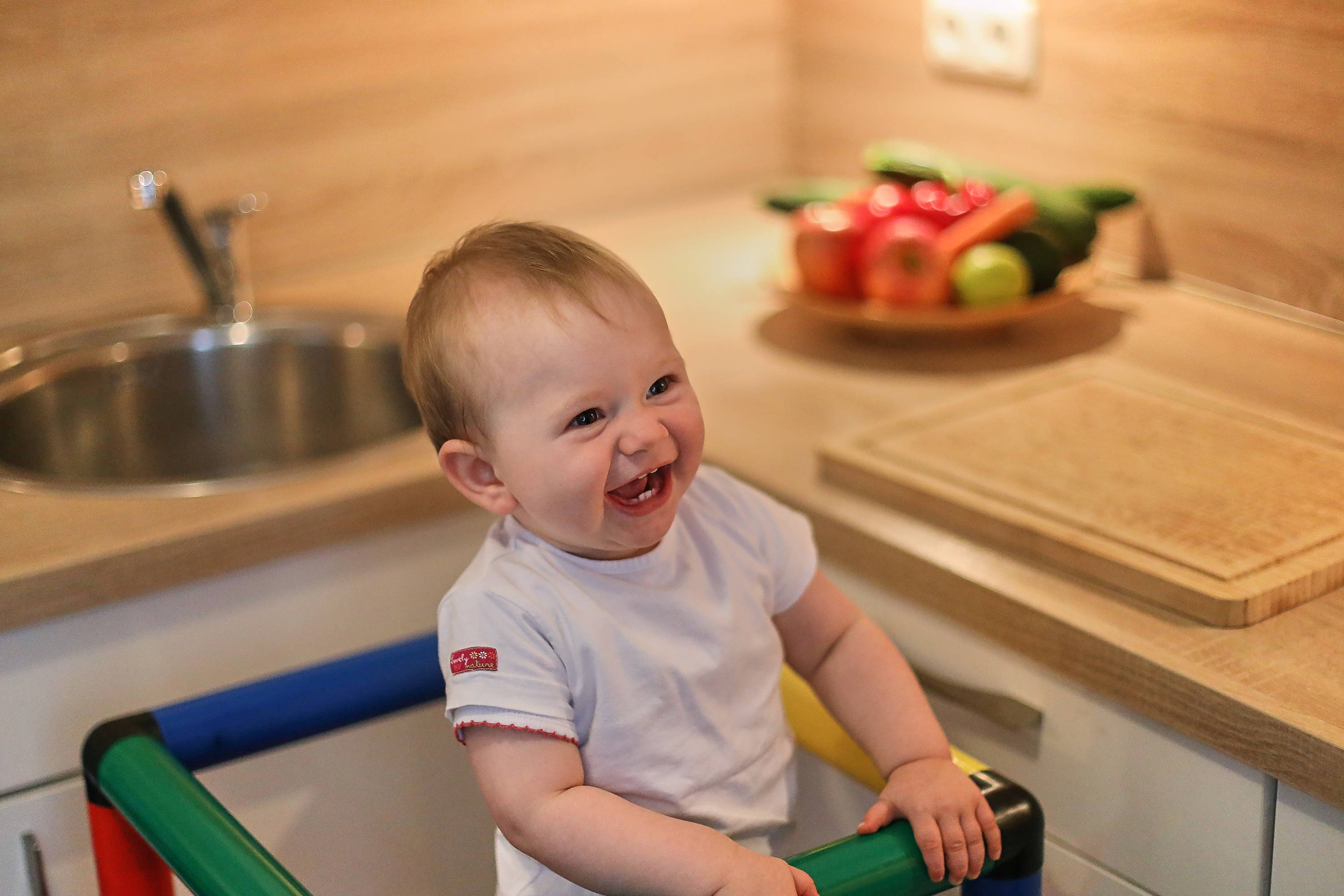 Here you'll find an especially cool way to use the learning tower.